IMPORTANT: Referendum Voting Options
Please find information regarding the voting options below for those planning to travel to Salzburg for Celtic's first Europa League group stage tie on the 18th September.
From aboutmyvote.co.uk:
Ways of voting
By post: You can apply to vote by post. You will need to fill in an application form and send it to your local electoral registration office to arrive by 5pm on 3 September. You can get an application form here.
Your local council can send postal ballot papers to your home address or to any other address that you give. Ballot papers can be sent overseas, but you need to think about whether you will have time to receive and return your ballot papers by 10pm on 18 September.
You will be sent your ballot papers ahead of the poll. If they don't arrive, you can get replacements from your local council up to 5pm on Thursday 18 September.
By proxy: If you can't go to the polling station and don't wish to vote by post, you may be able to vote by proxy. This means allowing somebody you trust to vote on your behalf. You will need to fill in an application form and send it to your local electoral registration office to arrive by 5pm on 3 September. You can get an application form here.
When you apply for a proxy vote you have to state why you cannot vote in person. Anyone can be your proxy as long as they will be aged 16 years or over on 18 September 2014 and are a British, Irish, other European Union or qualifying Commonwealth citizen. They must also be willing to vote on your behalf. You will have to tell them how you want to vote."
When and where is the match itself?
The first of six group games for Celtic, this tie will take place at 7pm local time in Salzburg, Austria.
The venue for the match will be the Red Bull Arena, which is also known as the Stadion Wals-Siezenheim, found in the suburb of Salzburg of the same name.
The stadium itself is located only a few hundred metres from the northernmost end of the runway at Salzburg Airport. A car journey from the main terminal to the arena would cover around four kilometres and last less than ten minutes.
Celtic have just announced an official day trip for this tie, priced at £449 excluding the price of a match ticket. This charter will only fly if sufficient bookings are made. If not, those who have booked will be informed on September 5th and subsequently given a full refund.
Airport Information
Salzburg Airport, also known as Salzburg Airport Wolfgang Amaedus Mozart, is the second largest airport in Austria, predominantly frequented by tourists and winter sports enthusiasts.
Located two miles south west of the city centre and only a mile away from the German border, it boasts two terminals and serves over a million passengers every year.
According to Wikipedia, Salzburg trolley lines two and ten run from the airport into the city centre every ten or fifteen minutes, taking between twenty-twenty and thirty minutes to arrive at their destination. At only a few Euros each way, this seems a fairly easy way to make your way into town.
A copy of the citywide trolley network map is available here. 
Buses and taxis are also available as you would expect at an airport of this size.
It is also noteworthy that one of the largest alternative airports to Salzburg is that of Munich, across the border in Germany. It is located approximately one hundred and fifty kilometres away.
Getting To The Ground
The following paragraph comes courtesy of stadiumguide.com:
"The Red Bull Arena is located in the west of Salzburg, approximately 4.5 kilometres from Salzburg's historic city centre and at a similar distance from the main railway station (Hauptbahnhof).
The stadium lies adjacent to the A1 motorway. Take exit 293 toward Kleßheim. On matchdays the club offers a shuttle service to the stadium from Salzburg's conference centre (Messezentrum), further north along the A1.
If arriving by public transport, the Red Bull Arena can be reached with O-Bus 1 from the main railway station. Take the bus in the direction of Kleßheim Kavalierhaus. The ride takes about half an hour and on matchdays transport is free if in the possession of a match ticket.
Buses run every 20 minutes and pass through the historic centre at the Ferdinand Hanusch Platz.
Address: Stadionstraße 2, 5071 Salzburg"
What Will The Weather Be Like?
Well, with the match scheduled for the end of summer on continental Europe in the mountains, that's not the easiest of questions to answer with any certainty.
The average temperature in Salzburg in September is 14C, with daily highs and lows averaging out around 20C and 10C respectively.
However, past records show that temperatures over 30C and below freezing have been recorded in the past in September, so I'd advise checking the forecast prior to travelling.
Regardless, it rains more often in the summer than any other time in Salzburg, so be prepared in case you get caught in the drizzly rain the locals call "Schnürlregen" (translation: smirry, dreich, horrible, minging etc).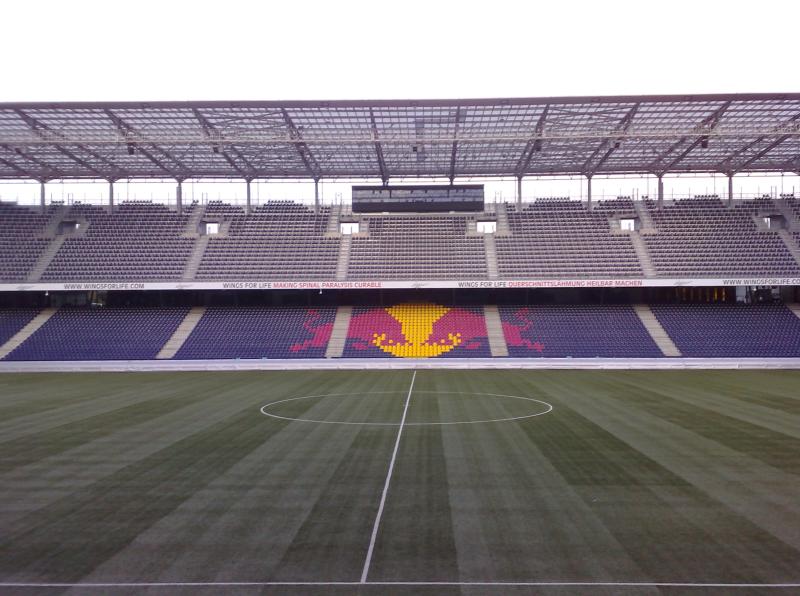 Can I Take a Tour Of The Stadium?

Possibly.
On their official website, Salzburg make reference to stadium tours being available at 10am on Saturdays, which last for somewhere between an hour and an hour and a half.
Tickets are supposedly priced somewhere in the region of €5 each according to an unofficial stadium guide posted a few years back.
Places on tours are supposedly only available via pre-booking, and no tours take place on match days themselves.
However, Saturday aside, Salzburg make no mention of tours on other days of the week, but they do provide a contact email address (for booking and questions) as well as other information, all of which is available here, so if you do have any queries you may wish to get in touch with them.
Ticket Information
Red Bull Salzburg's stadium has a capacity of 31,000, meaning they will be legally obliged by UEFA to offer Celtic Football Club a minimum allocation of 1,550 tickets for travelling supporters.
Presumably, a number of these tickets will be taken up by investors and those travelling on one of Celtic's official charters.
Generally speaking, away European tickets are only available to Celtic season ticket holders, with an individual's recent away European attendance record being used to allocate them with a grade. Grade A season ticket holders have attended the most matches of late and will stand the best chance of getting any desired ticket. As the grades fall from B through to E (E being the lowest), this chance will fall incrementally. If you are unsure which grade applies to you then I would advise you to contact Celtic's ticket office.
However, above all else, it is the demand for tickets coupled with allocation size which will increase or decrease your individual chance of being allocated an away ticket.
High profile matches in easy to reach destinations (see Ajax last year, where our allocation was the minimum applicable) can prove very difficult to get a ticket for even for those with a high ticket grading; equally,  less desirable matches in larger stadia (see Milan last year) were readily available to any season ticket holder who desired to attend the tie.
At this point, it is unclear how large the demand for away tickets will be in Salzburg and what price said tickets will be.
This information will be updated here when it is made available.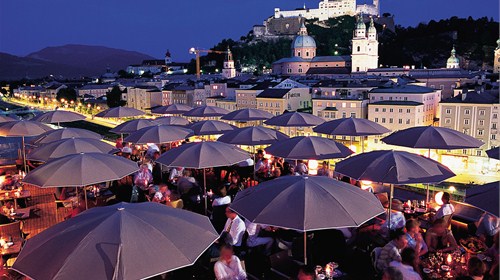 Eating And Drinking
Salzburg has a reputation as being an expensive city. Whilst this is most certainly true in some regard, like most major towns or cities, there are some areas which are far more expensive than others.
According to a few websites, it is generally cheaper to eat on the eastern side of the River Salzach, with the area around the Schloss Mirabell Palace apparently being a good place to go if you're looking for a feed. Conversely, the Old Town, known as the "Altstadt", has a reputation of boasting some of the city's more expensive restaurants.
In general, it is best to just remember to have a look at the menu outside most restaurants not only to check what food they serve, but how much it will cost you, before deciding to go inside.
Now, onto the vitally important topic of beer.
A quick Google search actually turned up more Irish bars in Salzburg than I thought it would, details and addresses of which are provided below.
They are all grouped just south of the River Salzach on the edges of the Old Town, so whilst you might want to avoid dining out in this area, you may well find yourselves drinking in it. In "The Shamrock", pints come in just under €5 each, and one would presume it's counterparts would be similarly priced.
"Murphy's Law" is given particularly good write-up's online, so it may be worth checking that out for yourselves.
Also, for those of you who may be interested, the birthplace of Mozart and Salzburg Cathedral are only a short walk from these pubs (the first is one street north of University Square on the map below and the latter is just next to the small green rectangular park situated a little south of "O'Malley's").
Addresses (all of which are within a few hundred metre radius):
Murphy's Law Irish Pub, Gstättengasse 33, 5020 Salzburg
Shamrock Irish Pub, Ranzenberger GmbH, Rudolfskai 12, 5020 Salzburg
O'Malley's Irish Pub, Rudolfskai 16, 5020 Salzburg
Dubliner Irish Pub Salzburg, Kaigasse 8, 5020 Salzburg
Additional information regarding Salzburg will be posted here in the coming weeks. If anybody has any particular queries or would like something to be added above, please contact myself on Twitter at either @MBEuropa or @MaleysBhoys.
More information can also be found HERE.
Thank you.