Recent Steps in the Right Direction
A little more than a month ago, in the wake of Celtic's goalless draw with Dundee in Glasgow, I wrote the following paragraph as part of a larger article (the entirety of which is available here): "For a variety of reasons, many people – some of whom still attend matches it must be said – feel disconnected from the Club which they hold so dear. Whether their main grievances involve the standard of football on offer; ticket pricing; kick-off times; the lack of public response from the Football Club to date regarding the scandal which has engulfed the Scottish game over the last few years; the effects of the Offensive Behaviour at Football and Threatening Communications (Scotland) Act 2012 (which the Club opposes) or anything else besides – the disconnect is there and if anything, instead of intensive efforts being made to narrow the gap, it has been allowed to widen. Focusing solely on the first of these matters, it is my belief that whilst the Celtic support can accept poor results every now and again, we cannot accept performances seemingly devoid of fight. The present team seem to capitulate with relative regularity at the first sign of adversity and as a result of this, there is a small part of me which feels oddly content with two points from our last two matches, because there were times in each tie when I thought a defeat was forthcoming. The much larger part of me, of course, is frustrated at the four points dropped during those two contests…"
Now, whilst I stand by what I said at the time, I feel I must now readdress the issue of "performances seemingly devoid of fight", because the team have overcome significant adversity in each of their three most recent league matches to great aplomb. Prior to this trio, a home Scottish Cup fixture against Morton also presented a somewhat clichéd – if not entirely baseless – "no-win situation" for everyone at the Football Club. After all, the certainty of the uproar which would have followed an unlikely victory for the visitors was just as inevitable as the relative apathy which would accompany a comfortable home victory against lower league opposition whom Celtic were rightly expected to defeat. Regardless, the Celts did all which they could do that day, competently ensuring the Club's progression to the semi-final stage of the tournament where further lower league opposition await.
The three league clashes which have taken place since then have each tested the Celts' individual and collective mettle in different ways, and to their credit, they have won the day on each occasion. Firstly, a Glasgow Derby against Partick Thistle on a poor surface at Firhill saw the visitors patiently compile a seemingly comfortable lead, before a soft penalty (remarkably Thistle's first in sixty-nine matches) gave the home side hope of snatching a point from the fixture with five minutes plus stoppage time remaining. However, the Hoops held on and secured an important victory, as Aberdeen would go on to defeat Kilmarnock by the same scoreline at Pittodrie later in the afternoon, again narrowing the gap to a single point (with Celtic having played one match less than the Dons). Celtic had won each of their two previous league meetings with Partick Thistle this season – although one of these was decided by a dramatic last gasp winner from Leigh Griffiths – and so perhaps this victory was to be expected, but tougher tests were yet to come.
On paper, our subsequent visit to Rugby Park to face a Kilmarnock side occupying eleventh place in the table should have been a simple affair, but when one considers that the Celts had failed to get the better of the Ayrshire side in either of their previous encounters this season, any blasé overconfidence would have been misplaced in my opinion. As it happened, this third meeting had several overtones of its predecessors, with Celtic having the better of the play but struggling against a determined, well-drilled Kilmarnock defence. The Hoops spurned a few chances, whilst Killie also went close on occasion, and as I stood there at Rugby Park watching the clock quickly ticking towards full-time, I could not help but feel that another goalless draw was on its way. Thankfully, I was to be proven wrong, as an absolutely wonderful strike from Tom Rogic sent the travelling supporters at Rugby Park into a state of positive rapture, the likes of which had not been seen for some time.
As the final whistle sounded, I imagine the ecstasy felt by the Celtic supporters around the world was only replicated by the agony endured by the Aberdeen fans, many of whom would have been en route to Fir Park. Had the Hoops drawn, a win against Motherwell would have seen the Dons move to the top of the table by a single point, albeit having played one match more than the Glasgow side. It is, of course, impossible to say whether or not Aberdeen would have defeated Motherwell had Celtic failed to score at Rugby Park, but had that been the result of the lunchtime fixture, the encouragement which it would have given them would likely have been enormous. Instead, the last gasp Celtic winner must have had some psychological effect, and by that evening, with Aberdeen having lost, the Hoops had established a four point lead at the top as the international break began.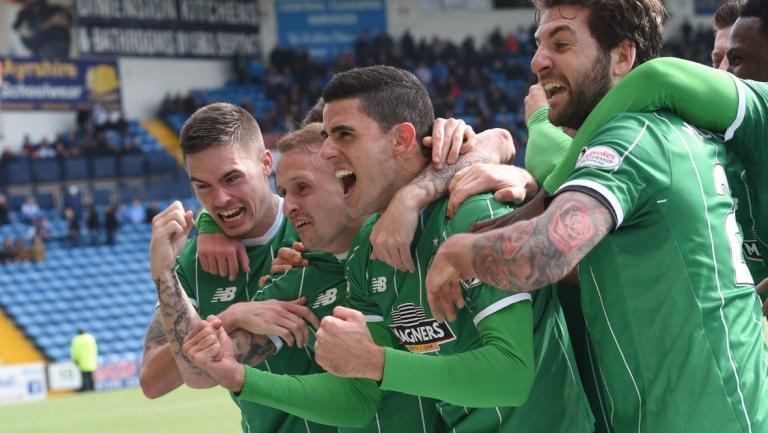 Lastly, Celtic welcomed the third best team in Scotland, Heart of Midlothian, to the East End of Glasgow on Saturday. The attendance figure fell just short of the fifty thousand mark, signifying the importance of the occasion. The away side went ahead early on and Celtic found themselves faced with the task of coming from behind to win a football match, something which they had not done since the fourth of October 2015 away at Hamilton. Indeed, the only other occasions upon which such a comeback took place this season arrived in July and August, against FC Stjarnan (A) and St Johnstone (H) respectively. Yet, the Celts did just that at the weekend, eventually securing three points by virtue of a three-one scoreline.
Statistically, it was a slightly quirky match, against a Hearts side who played well for large periods, displaying some clever passing and movement whilst lacking some refined finishing. According to the BBC, Celtic only had 43% of possession – the first occasion this season wherein any of our domestic opponents have dominated the football – and the visitors had one more shot than we did, with their fourteen attempts just bettering our tally. Critically though, ten of our thirteen attempts were on target (77%), whilst Hearts' only managed four such efforts (29%). Regardless, putting my love of statistics aside for now, the most important numbers this weekend were those representing our scoreline, and it was a great pleasure to see Celtic secure the win once again. Of course, Aberdeen eased past Hamilton at Pittordrie to narrow the gap to four points once more, but this was not a big surprise.
Whilst it can correctly be stated that the results which Celtic have achieved of late do not solve all of the concerns which many supporters have regarding the Football Club, it has been encouraging to see the team stand tall in the face of adversity, holding on for tight victories; producing some magic when it was required most; and overturning a deficit to secure three vital points. Make no mistake about it, with every poor performance or bad result, the pressure around any Football Club will grow, and had Celtic conceded a late equaliser at Firhill or failed to beat Kilmarnock at the third attempt, the inevitable nervousness and anxiety around the next match would have increased exponentially. If Aberdeen had led the league table throughout the international break and Hearts had scored early at Celtic Park just as they did on Saturday, it would have been very easy for the players and coaching staff to panic, particularly as the atmosphere would have had the potential to turn rather sour. I am well aware that these scenarios fall into the realms of "ifs", "buts" and "maybes", but I have mentioned them simply to highlight the consequences which could have followed had they come to pass. This Celtic side may not be perfect, but recently they have shown their capability to dig in and fight when it matters, and they deserve great credit for doing so. Indeed, it would be wrong of me or anyone else to only criticise our Football Club whenever something warrants it, rather than being appreciative when praise is undoubtedly due.
Big challenges lie ahead as the 2015/16 campaign runs its course, but one would hope that confidence will breed confidence in the weeks to come. Our most important fixture will continue to be our next one, whatever it may be. The importance of Celtic's trip to Den's Park tomorrow evening – which will finally see our long discussed game in hand take place – cannot be overstated, so here's hoping for another victory.