A Mundane Title For (Hopefully) An Interesting Article
It is virtually impossible to offer any great statistical comparisons just one or two games into any given season, but with ten competitive games now under Brendan Rodgers' belt as Celtic manager, some points of merit can be noted. Now, before continuing, I would like to state (as I generally do) that statistics are rarely capable of telling the whole story of anything regarding football. They are entirely open to interpretation and can never replace the time spent watching a team of your choice play match after match, but they do interest a lot of people nonetheless. With that in mind, allow me to proceed.
Beginning with the basics, it is surprising to think we actually had a better record after our first ten games of last season than that which we do currently. I believe this to be a fine example proving my above point; that not all statistics are created equal. Once the first ten matches of Celtic's 2015-16 season had been played, the Hoops had won eight fixtures whilst drawing two. Contrasting this with 2016-17, we find we've won seven ties, drawn one and lost twice. Despite the fact our respective goal difference is identical (+15), it is also eye catching that we had already kept five clean sheets at this point last season, whereas we've only managed to keep our opposition at bay twice thus far during this campaign. However, when subjected to slightly closer examination, these observations fall apart because of fixture scheduling.
Indeed, whilst the above records are both factually accurate, we have already secured a place (albeit somewhat nervously) in the Champions League group stages this year, whilst our second leg playoff loss to Malmo in Sweden was our eleventh competitive tie of the last campaign, meaning firstly that it is not considered in the previous statistics and secondly that this season is already proving to be more successful.
With that in mind, I feel it is more apt to consider Rodgers' first ten matches not against the first ten fixtures of last season, but those of Deila's equivalent ties from the 2014-15 campaign. Herein, there are significant differences to be found despite there being more structural similarities present than those considered previously. First of all, each manager had just taken charge of a new squad, predominantly filled with players whom they had never worked with before nor signed. Of course, Ronny Deila did not bring in his own backroom staff in the manner which Rodgers did, and one would presume the latter manager had access to a larger budget. Critically though, each man's debut ten competitive matches included the full run of their Champions League qualifiers and four domestic fixtures. Therefore, they are comparable and a brief table which aims to do this can be found below.
Now, even at a glance it is apparent Rodgers has had the edge on Deila thus far, but there's a bit more to it than that. Celtic were eliminated from the Champions League qualifiers twice in the 2014-15 season, with Legia Warsaw comprehensively defeating us over two legs before the ineligibility of one of their players saw us progress to face Maribor – and the less said about that, the better. For the sake of clarity, I have not considered the "home" match at Murrayfield against the Polish side as a three-nil win above (although technically it was), but rather as the score on the night, a two-nil defeat. This was a personal decision on my part as we're focusing purely on statistics.
Regardless, the attacking flair shown on the whole by Brendan Rodgers' side has been very impressive. After his first ten matches in charge, Ronny's side were averaging one goal scored for every 9.35 attempts at goal. Indeed, during his entire time at Celtic Park this figure never fell below 6.61. Each season ended with readings of 7.15 (2014-15) and 7.45 (2015-16) respectively; both laudable numbers it has to be said. However, presently Rodgers' Celtic team are scoring one goal for every 6.35 attempts on goal. Now, not only is this the lowest I've ever seen this figure whilst keeping track of various statistics surrounding the Football Club, but when one recalls that we did not score a single goal in Gibraltar against Lincoln Red Imps, a team whom we were rightly expected to beat comfortably home and away, this becomes all the more remarkable. Of course, the chances of this number remaining so low as the season progresses are unlikely, but it represents a very fine offensive start to the campaign all the same.
Defensively, a gap is present also, but it is not of such a scale. Presently, Celtic are conceding one goal for every 8.45 attempts an opponent has against them, which is only marginally better than the ratio of 7.91 found after Deila's first ten matches as Celtic manager. Indeed, the Norwegian's first season – which saw a significant improvement defensively as time passed – ended with this ratio at a very high 11.45. Regrettably, this fell markedly last season, ending the campaign at 8.26. It would be reasonable to suggest this ultimately led to Ronny Deila's departure, although other factors such as consistency of selection due to injury, suspensions and transfers also had a part to play.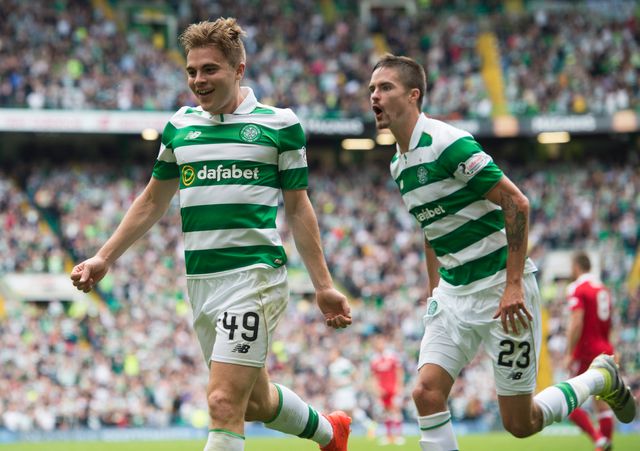 Moving on to the trials and tribulations of individual players and returning our comparative focus to this campaign and last season, significant differences can be found across the field. During the 2015-16 campaign, James Forrest (not unjustifiably so in the minds of many) became a much maligned figure, with just two goals and two assists to his name in thirty-three competitive outings. This represented an average of 452 minutes passing between every goal or assist Forrest made. Now though, he looks like a new man, already surpassing last season's totals racking up three goals and two assists after just ten appearances. The aforementioned average now sits at a goal or assist every 126 minutes, with the disparity therein clear to behold. Whether he can maintain this fine run of form remains to be seen, but it is encouraging nonetheless.
Although the differences may not be quite so obvious, it is notable that two of the most influential figures from our last campaign, Tom Rogic and Leigh Griffiths, have also started the season positively. The Australian is already well on his way to bettering his totals of ten goals and seven assists from 2015-16, with four goals and two assists this year thus far. His ratio of minutes to goals/assists has also fallen from an admirable one every 126 minutes, to just one every 79 minutes. He had only featured in 233 minutes of play after Celtic's first ten matches last year, but has already more than doubled this figure to 473 mins. As for Griffiths, he too has improved his time played to goals/assists ratio from once every 85 minutes to once every 70 minutes, but it would be truly remarkable were he to keep this to such a lowly figure in the long run as he was unable to do so last season despite being truly integral to our league victory. Also, whilst only four of his forty goals last season came from outwith the penalty area, he has already found the net from that range on three occasions during the ongoing campaign.
Considering the defence momentarily, it is noteworthy that whilst this will come as a surprise to nobody, Kieran Tierney is solidifying his starting slot at left-back and looks set for big things in the future as a result. By this point last year, he had only played 60 minutes of first team football before eventually taking over from Honduran veteran Emilio Izaguirre. Now though, he has already played 780 minutes during this campaign and looks set to surpass his total of a little under 3,000 minutes from last year with relative ease. This, of course, is no mean feat and is a testament both to his ability and endeavour.
One immediate problem which appears to have transferred over from Deila's tenure to the days of Rodgers is a lack of consistency with regards defensive selection. This is perhaps inevitable for any new manager, particularly when one considers the effects of player transfers and injuries. As I have discussed in much more detail here, the highest regularity with which Ronny Deila selected a starting back four last season was just seven games from a total of fifty-seven fixtures. Thus far, Rodgers has already trialed nine different defensive lines in ten ties himself, although his penchant for playing three at the back now and again has invariably skewed this statistic somewhat when one considers three centre-backs rather than a pair of centre-backs and another pair of full-backs. One would perhaps expect that with the return to fitness of Erik Sviatchenko – and possibly the recent acquisition of Cristian Gamboa – Brendan may finally be able to field a consistent defensive selection. Of course, the arrival of Dorus de Vries must not be forgotten either, although gaolkeepers are not included above.
In closing, I feel it is appropriate to highlight that exciting times lie ahead. Nothing is certain in football, but with a plethora of domestic ties and visits to Catalonia, Germany and England awaiting us, people are likely to be gripped by the relative fortunes of the Celts. We have seen a lot of F.C. Barcelona recently, especially when one remembers that we did not face them in a competitive tie for almost four decades between 1964 and 2004. I do hope it will be of interest to you all to know that in the six meetings between the sides in Glasgow, only once has there been more than one goal separating the sides come full time (a 3-1 defeat in September 2004), and who scored the goal to set that tie apart from the rest you ask? Well, that was the one and only Henrik Larsson.
Oh, to see his like again.