Lincoln Red Imps 1 Celtic 0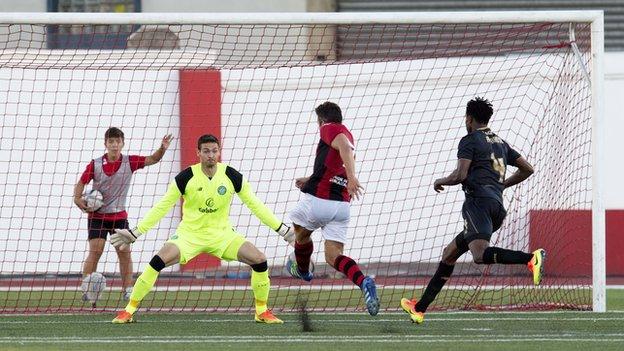 Prior to beginning this article in earnest, I believe there are two things worthy of immediate acknowledgement. Firstly, last night's defeat to the champions of Gibraltar was embarrassing. With the greatest respect to Lincoln Red Imps, when one considers the gulf in resources available to the two Football Clubs, that is an undeniable fact. Indeed, it is one which cannot be erased from the history books and Celtic supporters across the world will have been a subject of fun for many of their work colleagues today. Secondly, it is important to remember that all is not lost. Awful though this opening loss may have been, we are fortunate enough to have the opportunity to overturn the single goal deficit in Glasgow and progress to the next Champions League qualifying round. In this sense, whilst this first leg result was exceptionally poor, it is not yet truly calamitous.
In January 1897, Celtic were knocked out of the Scottish Cup by lowly Arthurlie, signalling one of the greatest upsets in the short history of the Football Club. Again, in February 2000, the Hoops endured another loss to forget in the same competition, falling to Inverness Caledonian Thistle, much to the amusement of headline writers and large swathes of the public alike.  A few years later, I opened a newspaper in Times Square whilst on holiday in New York to discover the Celts had lost by five goals to nil against Artmedia Bratislava in the first leg of a Champions League qualifier. Naive though it may sound, I did wonder momentarily whether or not there had been a printing error, before my fears were inevitably proven true.
Of course, Celtic have suffered other upsets across the years – and, to their credit, they have inflicted many themselves – but I chose to mention this trio as three of the worst. Each of those matches haunted many supporters of their respective generations, and whilst we may be fairly accustomed to more valiant defeats, the very word "Artmedia" will always send a shiver down my spine. Upset though we all may be (and rightly so), I do not believe we can consider last night's defeat to Lincoln Red Imps as the worst result in the history of Celtic Football Club. Critically, as I have mentioned above, we can recover from our present situation. However, this was not the case when the players trudged off the pitch having lost to Arthurlie or Inverness Caledonian Thistle, and it must be said that although Gordon Strachan's side gave it a praiseworthy attempt, the likelihood of coming back from such a heavy first leg loss against Artmedia Bratislava was always going to be slim at best. Mind you, if the worse were to happen next week, then this would most definitely jump to the top of the list.
Having said all of that, I feel it is of the utmost importance that we react in a positive manner to this most recent upset and learn lessons from Gibraltar. As supporters, our first instinct must be to back the team in large numbers next Wednesday night. I have no doubt in my mind that tens of thousands of people will do so and that with such a support behind them, playing in familiar surroundings, Celtic will stand a good chance of progressing from the tie.
Moving our focus from the supporters to those individuals at the Club with a direct influence on football matters, allow me to briefly discuss the manager, his playing squad and the executive hierarchy. Despite the nature of the result which prompted the penning of this piece, Brendan Rodgers remains a great appointment at Celtic Park. Having never led this team into a competitive match before last night's debacle, it would be wrong to lay a great deal of blame at his feet, although people will always be entitled to ask questions regarding team selection, tactics and so on. Regardless, one would presume that for a manager of his stature, Celtic's dismal showing will have been a big eye opener. Although he may be somewhat coy about his true feelings in public,  it would be staggering to think that he believes the squad of players currently at his disposal are up to the task at hand. Certainly, there is talent and potential present, but there is also mediocrity in abundance. Rodgers will know that significant changes are needed.
Considering the playing squad itself – with the notable exception of recent acquisition Moussa Dembele – serious questions must be asked of many of them. Whilst Ronny Deila rightly shouldered much of the blame for the failures which occurred during his tenure, it is now very apparent (if it was not already) that he was not the sole source of poor results. Yes, some of these players were signed by the Norwegian, but several were not and regardless, this should not excuse them from individual criticism if and when it is justified. Put simply, some of the players are not of the standard required for Celtic Football Club to progress.
As I said yesterday evening on Twitter, few people are surprised now whenever Efe Ambrose makes a mistake. Frustratingly, he is capable of playing well for periods, but the fear is now ever-present as we collectively wonder when the next error will arrive. I genuinely like Efe – he seems like a lovely guy – but I know of many people whom I like wholeheartedly but would not select as a starting centre-back for Celtic. Regrettably, I believe Ambrose's time at Celtic Park is up. Whether or not he stays in Glasgow to see out the remaining year on his contract – as is his right – remains to be seen, but it would take a mammoth effort or perhaps a miracle from Brendan to curtail his liabilities and salvage a reliable defender in the form of the Nigerian. I am very aware that injuries are currently hampering Rodgers' ability to select his best two centre-backs, but be this though it may, the purchase of at least one new player to bolster this position must be a priority. For the record, I dissected our defensive difficulties of last season around a fortnight ago and you can read that article by clicking here.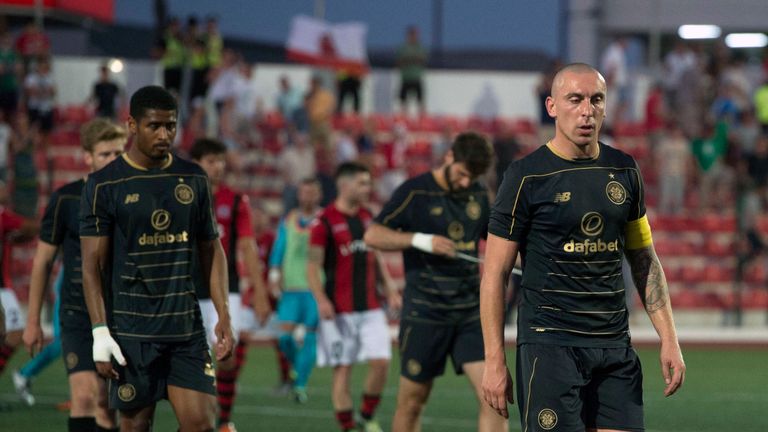 Although Efe may be known for inconsistency, there are certain players at the Football Club who, for one reason or another, should maintain much higher standards. Perhaps the most high profile example is that of the Club captain, Scott Brown, who is set to enjoy a testimonial match at some point in 2017. In my opinion, although I know there are some who would disagree with this, Brown's poor showing last night was not good enough nor was it a rare event. Indeed, since his return from injury midway through last season – which was rushed in an attempt to steady a listing ship, to be fair to him – he has largely looked a shadow of his former self. Whilst it would be a bold decision for Brendan Rodgers to hand the captaincy to another member of the squad as some have suggested, he must realise that simply because Brown is the current captain should not mean he is exempt from replacement in the starting line-up.
Whilst Brown was most certainly not the only individual to play poorly last night – any football supporter, particularly at their team's hour of greatest need – naturally looks to the established, experienced players within the squad to lead by example. Younger players tend to be given more slack in this regard, especially after big games, but of course this is not exclusively so. Nonetheless, both Scott Brown and his partner Nir Bitton were abject in their efforts yesterday in the centre of midfield. Instead of dominating the match and driving the team forward against opposition, they instead spent a great deal of time doing exactly that for which they were roundly criticised at points last season – passing sideways or backwards, taking too many touches and failing to maintain a high tempo.
In the cold light of day, one would expect those within the hierarchy at Celtic Park to be considering their recruitment options with an increased sense of urgency now. On paper, our current squad should be capable of overcoming Lincoln Red Imps next week, but even if they do so, more difficult opponents will lie in wait. The same can also be said of the upcoming domestic calendar, but we are blessed with slightly more preparatory time in that sense. It would be almost inconceivable to think that Brendan Rodgers would have accepted the role of Celtic manager without a substantial transfer/wage budget being made available to him, so it is now time to start accelerating any negotiations currently in progress.
We must seek to trim the squad and build around its true core; Leigh Griffiths, Erik Sviatchenko, Kieran Tierney and the like. More heart is vital as well as more talent, with numerous leaders required on the field if success is to be achieved. Brendan Rodgers must be calculated with acquisitions and ruthless with departures; Peter Lawwell and the Club hierarchy must be willing to back his endeavours financially; and the players – whoever they may be – must be willing to give their all for the cause. Many people will be laughing at Celtic's expense today, but let us use this opportunity to learn from our mistakes, strive to improve and enjoy the last laugh this season ourselves.