Preserving the Past for the Future
Ladies and gentlemen, I've been in a somewhat reflective mood of late and, now that the domestic football season is at an end, I've decided to pursue an idea which has been whirling about in my head for a significant period of time. Well, the extent of this pursuit thus far has only involved the penning of this article, the purchase of a website domain name and the setting up of a Twitter account, but no matter. Regardless, I'd ask you all to take a few minutes of your time – head off and make a cup of tea or coffee if you think it'll help the process – and read about the following idea whilst pondering these three questions.
1. Is the Celtic Memory Archive an idea worth pursuing?
2. Is the idea logistically possible?
3. Is there anything you believe you could do to help?
The Motivation
Whilst writing two books on the history of Celtic Football Club, I've been very fortunate to meet some incredible people, two of whom are no longer with us. William (Bill) Boland (pictured above) was the oldest surviving ex-Celtic player until his death in September 2013, aged 93. Bill scored two goals in his four appearances in the Hoops, eventually ending a spell which lasted a little over a year at the Football Club in 1945. I first met Bill whilst he was 92 years of age, and had the great pleasure of discussing his life with him in detail during the course of numerous lengthy visits to his home in Muirkirk. His lifelong love of Celtic Football Club – an emotion only strengthened by the pride he took in his short playing spell there – was infectious. Regrettably, he died just a matter of weeks before "Standing on the Shoulders of Giants" went to print, although he did have the opportunity to read his chapter in full. Bill attended both the 1937 Scottish Cup Final (which remains the record-holding domestic European match in terms of attendance – 147,365) and the 1953 Coronation Cup Final – two of Celtic's finest days – among many others. A brief excerpt of Bill discussing his first goal for Celtic in the aforementioned book can be found below:
"The enthusiasm and vigour with which Bill described both of his senior goals to me was indicative of a man who had the chance to play, and score, for the Football Club he had always loved, and continues to love with all of his heart. He explained to me that these brief moments were virtually imprinted on his mind, and that he felt he could play, rewind or fast-forward each of them in his head at a moment's notice."
"On the third of March 1945, Bill took to the field at his beloved Celtic Park for the first time in a senior match. Bill proceeded to describe the goal which he scored that day: "We'd won a throw just inside their half a few moments earlier. I felt the Falkirk player close behind me just as the shy was taken, and I thought he was standing closer than he should have been, considering the shy was quite far down the wing. Anyway, when the ball came to me I turned and knocked it past him and, because he was so close, I was able to drop my shoulder and get away from him. So, as I ran towards the box, the defence backed off, giving me the chance to take a shot, which I did from the corner of the box. As luck would have it, in it went!" The match would, after a topsy-turvy style encounter, eventually finish with Celtic winning by three goals to two."
Billy Davidson, of Coatbridge, was a lifelong Celtic supporter who played in the band which accompanied a triumphant side around Celtic Park as they returned to Glasgow following their European Cup success in 1967 – he passed away earlier this year. During my time with him, both before and after the publication of his life story in "Standing on the Shoulders of Giants", we discussed everything from his trips across Scotland and Europe following the Hoops, his brief meeting with the now sadly departed Muhammad Ali and his appearances on mid-afternoon television programme "Countdown".
It was an honour to have befriended both of these men, and each of their deaths made me realise I had been given the opportunity to pen stories which would be largely lost to the world nowadays otherwise. Indeed, I expect the vast majority of you reading this will have had parents, grandparents, other family members or friends who have died, only for some of their stories or the details therein to have subsequently been lost to the sands of time. Therefore, I believe we should all now make an active effort to stop as many stories of the past being lost in future.
The Aims
– To add to the written, audio and visual history of Celtic Football Club and its supporters.
– To create an electronic archive wherein this data could be both accessed and stored for the foreseeable future.
– To encourage supporters of all ages, but particularly elderly individuals, to tell their stories in a safe, comfortable and enjoyable manner.
– To rekindle memories long since forgotten in the minds of many via the use of audio and visual stimulants.
– To bring people closer together and promote the already positive reputation of the Celtic support.
The Idea
Now, we come to the tricky bit. A proposal such as this has almost endless potential off-shoots and possibilities, so with that in mind I'm going to try to ignore them and focus on the basics for the purposes of this article. After all, if this idea proceeds to any significant degree, it will likely evolve and alter naturally. Therefore, I feel I should just attempt to lay the groundwork here.
Celtic Football Club has a long and rich history unlike any other and already has a wealth of fantastic groups, resources and individuals who actively do their utmost to promote the Club's story. Fine examples would be collectives such as "The Celtic Grave Society" and "The Celtic Wiki", which rightly inspire the supporters of other Football Clubs and lead their way in their respective fields, much to the credit of everyone involved therein. Of course, these are just two of many examples which do the Club proud.
Allow me to state categorically now that I do not want the Celtic Memory Archive – should it come to fruition – to be seen as a competitor to the plethora of wonderful already established groups and resources. Indeed, I'd much rather it was a companion to them, simply becoming a small cog in a big machine.
And so we come to the idea itself. I wish to create an electronic archive within which every Celtic supporter will have the opportunity to have his or her story – whether it be an individual memory, a couple of tales which stick in their mind, or lengthy pieces detailing their life following the Football Club – recorded for future generations to enjoy whilst adding to an important historical record.
The process of interviewing a supporter for a chapter in a book; researching their respective time period to ensure accuracy; writing, editing and ultimately publishing the work takes a great deal of time for any author. Equally, and perhaps more importantly for the topic of this article, it presents a daunting challenge for the potential protagonist. I have spoken to numerous Celtic supporters over the years and asked them if they would be interested in telling their stories for a place in a book, only for them to decline, suggesting they either would not have enough of a story to tell or that they don't consider themselves to be particularly interesting. This was an entirely natural reaction on their part, and one which I would not dream of criticising them for, but I want to put in place a system within which these barriers are significantly reduced, if not broken down altogether.
So, if there's that older gentleman who is always telling stories on your supporter's bus; if your auntie started going to away games decades ago; if you had a day or night to remember in the Carlton, Castlemilk or Chicago following a Celtic match; or if you just want your favourite photo from Seville to form a little bit more of the history of Celtic Football Club, I'd wholeheartedly encourage you to get involved.
The Method
– To ask Celtic supporters, particularly those in their later years, to write about their memories and experiences.
– To encourage their family members and friends familiar with technology to assist them with the e-mail or uploading of material etc, as and when is required.
– To conduct audio interviews with supporters, either with a representative of the Celtic Memory Archive or a family member or friend.
– To obtain scans of old photographs, so that the original copy may stay undamaged with its owner but the image is saved electronically for posterity.
– To make resources such as custom made picture books (featuring everything from photographs of old players and stadia to period railway timetables and advertisements) available to families with elderly relatives, in the hope the images and words contained therein may help bring back some memories and, most importantly, provide some enjoyment for the individuals in question.
– To periodically add to an archive which, hopefully, would be able to stand the test of time.
How You Could Help
As with any voluntary project, should this proposal progress to such a stage whereby it becomes active, it would be natural to look for help from any suitable individuals who were willing to provide it in one way or another. The extent to which this would be required remains to be seen of course, but those skilled in the fields of graphics, website design, audio recording/editing and printing among others would likely be of great assistance. Critically though, numerous volunteers who simply hold an interest in the history of Celtic Football Club and enjoy discussing the topic with different types of people would be required also. For example, if a letter arrives enclosing a fantastic story from an elderly supporter who lives in Aberdeen, it would be more practical for someone relatively local to interview them in person (should that decision be made) than someone living in Glasgow. Of course, one-off visits are one thing, but if similar situations also come to the fore in Nottingham, Thurso and Cardiff, the practicalities of the matter become more clear to see. Technologies such as Skype would be handy also, particularly for international discussions.
Potential Obstacles
It would be tremendously naive of me to suggest an idea such as this without highlight some of the potential obstacles which may lay in our way. Indeed, there are likely far more which have not yet presented themselves or sprung to mind.
One present issue is that if I were to ask elderly supporters to write to the Celtic Memory Archive recalling their respective tales following the Football Club, it is likely the majority of them would prefer to do so via a handwritten letter. Yes, some of them may use e-mail and others may have family members capable of scanning a letter before sending it electronically, but the problem of providing the others with a valid postal address remains. I'm sure you would all appreciate my reluctance to publish my home address on the internet, and the costs associated with the use of something such as a P.O. box seem to fall in the region of £30 a month (£360 annually). Therefore, I would likely have to explore my options in an attempt to find a more reasonable solution. Also, it is noteworthy that it is difficult to predict the response an appeal for such letters would achieve. I have no idea whether we would see three letters arriving per week or thirty, and this represents a significant unknown.
Another issue, inevitably, regards finance. Personally speaking, I would like to keep the costs associated with the Celtic Memory Archive as low as is feasibly possible. Gracefully, I have always been able to afford to pay the running costs of my present website individually, allowing me also to keep "Maley's Bhoys" wholly free of advertisements in the process. However, an undertaking on the scale of the Celtic Memory Archive – if it were to go ahead – would undoubtedly require some funding in order to get it off the ground, with website costs and picture books fees likely among others. Daft as it may sound, even the cost of something as simple as stamps could become significant if letter correspondence really took off. Even the prospect of replying to five letters per week over the course of a year – simply to acknowledge their receipt and thank the individual involved for their efforts taking the time to tell their story – would cost over £140. Of course, if several people were involved in the process of replying to letters, this individual figure would fall, but it is worth keeping in mind regardless how seemingly small costs can mount up.
Again, these are issues for detailed discussion at a later date, but it would be wholly inappropriate not to acknowledge their existence from day one.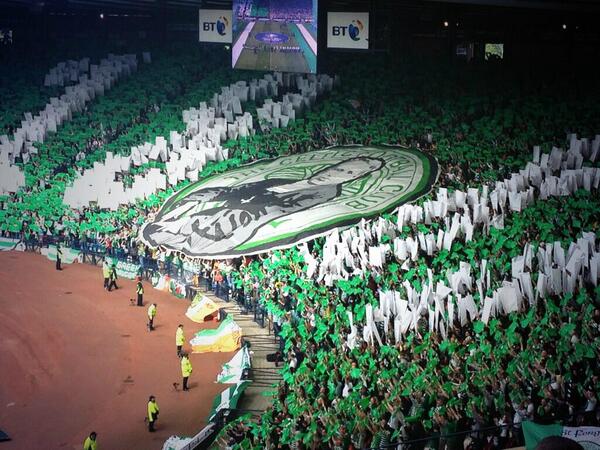 Conclusion
In the future, when historians yet to be born look at the 2015/16 season, they'll be able not only to find highlights of every Celtic match from the campaign, but presumably they'll have the ability to search through old Twitter and Facebook profiles (not to mention dedicated websites) in order to gain some insight into what the Celtic supporters of the day thought and felt. Videos taken on mobile phones of trips to Hampden or abroad will be dotted around the depths of the internet, and endless pictures and selfies will provide an accessible backdrop to many matches. However, this was not the case in the past, and many of the memories of matches are locked into the heads of individuals; many of the old photographs sitting in rarely opened drawers; many of the old flags and scarves hidden away in long forgotten boxes in lofts and cupboards.
I often say that is exceptionally difficult for any historian to truly compare Henrik Larsson and Jimmy McGrory, two of the finest strikers not only to pull on the Hoops, but of all time. After all, whilst each and every one of the Swede's Celtic goals can be found contained in one YouTube video, only a tiny minority of McGrory's gargantuan total were caught on film.
So, without an extensive film record, can we say both were exceptional in their own right? Yes.
Can we say McGrory's goal total and goals to games ratio was better than Larsson's? Yes.
Can we say Larsson received far more international recognition than McGrory? Yes.
Can we read historical accounts of McGrory's style of play and try to compare it with Larsson's? Yes.
However, can we compare the two having seen each of them take to the field with our own eyes? No, but Bill Boland could, because he was lucky enough to watch the two of them in person in their respective eras.
Now, consider that prospect for a moment – having the ability to compare the likes of Jimmy McGrory and Henrik Larsson (as well as all of the talents to have shone in the intervening period) because you'd watched each of them play live. For the record, Bill considered Larsson to have been the more rounded footballer, but thought McGrory had the edge on the Swede in the air, which is quite a statement. Regardless, had Bill never had the opportunity to divulge his thoughts on this subject matter to anyone, they would now have been lost.
In closing, I am very aware of the fact that it is an impossible feat to preserve every one of the memories possessed by every Celtic supporter. Indeed, many of them are largely shared memories; whether it be celebrating a late win over Boavista in 2003 or seeing Tony Watt sprint beyond the Barcelona defence before coolly slotting the ball into the far corner of the Catalan net in 2012, so will be preserved to some extent nonetheless, even if people's individual experiences of each goal may differ somewhat. However, I would suggest that we should endeavour as a support to preserve as many of the stories of old elderly supporters as possible not because it is easy, but because it is worthwhile.
I cannot do this alone, so consider this an open invite to all of the websites, social media accounts and supporters' groups out there. The same can be said for the wider fanbase and to Celtic directly. Let's do something nobody else has done before and leave a lasting historical record of many of the fine people who have faithfully followed our great Football Club throughout their lives. Thank you.
Please direct all enquiries and communications regarding this topic to @CelticMemoryArc on Twitter or to celticmemoryarchive@hotmail.com