Thoughts on the Past, Present and Future of our Defence
During his two years at Celtic Football Club, Ronny Deila led his side to two Scottish Premiership titles, a Scottish League Cup and the knockout rounds of the UEFA Europa League on one occasion. I would like to think that the majority of you reading this would join me in thanking him for his efforts and wishing him all the very best for the future. Regardless, Ronny Deila did not only leave his individual successes and failures in Glasgow, but also a squad of players. Brendan Rodgers was rightly given a fantastic welcome to Celtic Park when he was unveiled as the new manager of Celtic Football Club and has now taken the squad to Slovenia for a fortnight long training camp. With Champions League qualifiers and friendly clashes against Leicester City, Barcelona and Inter Milan to follow, the fixtures set to be contested on this tour will allow us an initial glimpse into the Celtic of 2016-17.
However, whilst none of us know what will happen in the future to Rodgers' Celtic, it is an easier task to evaluate the results of his predecessor.
Firstly, allow us to look at the statistics involving the first team as a whole. Celtic won the Scottish Premiership in Deila's first season with a final points total of 92, achieved thanks to 29 victories and 5 draws from 38 league matches. Having scored 84 goals and conceded just 17, the Celts ended the campaign with a goal difference of +67. Our closest rivals in the race for the title were Aberdeen, who eventually ended the season with a total of 75 points to their name.
Now, a brief comparison with the following league season – 2015-16 – initially tells a similar story. Celtic again won the Scottish Premiership with Aberdeen finishing in second place, with the final points gap between the two teams being 15, a margin the Dons had only managed to narrow by 2 points. Celtic improved their scoring tally by 9, but conceded 31 goals – almost doubling the respective figure from the previous campaign. These changes naturally offset each other to some extent in terms of goal difference, which finished at +62.
Nonetheless, therein lies one of Brendan Rodgers' first big challenges – sorting out the defence.
Celtic conceded 54 goals in all competitions last season, 10 more than they had done during the 2014-15 season. However, our opponents managed this despite having 52 less attempts and 29 less shots on target than they had done previously. It is also noteworthy that Celtic played four less competitive matches during 2015-16 than they had done throughout 2014-15. Therefore, the average number of attempts which an opponent would require in order to score one goal fell markedly from 11.32 attempts (2014-15) to 8.26 (2015-16). Such a dramatic reduction does not make for good reading, but there are certainly some factors which one would presume to have contributed to this decrease.
Examples of this are player selection and availability. Thirteen different players played in defence for Celtic during the 2015-16 campaign, with Ronny Deila generally opting to play a flat back four consisting of two centre-backs and two full-backs. Of this number, two (Eoghan O'Connell and Anthony Ralston) played less than one hundred minutes of competitive senior football. During the previous campaign, eleven men played in Celtic's defence at one point or another, with four (Darnell Fisher, Eoghan O'Connell, Kieran Tierney and Filip Twardzik) receiving limited playing time.
There is then a relative disparity in the number of defensive players being picked with some regularity for the first team squad between the two seasons, but this alone cannot shoulder the blame for the drop in defensive form. I believe consistency of selection, transfers and the quality of the respective players must also be considered.
During the 2014-15 season, thirteen different back four combinations started competitive matches for Celtic. As you can see below, over 60% of these involved the same centre-back pairing and left back, with Mikael Lustig, Adam Matthews and Efe Ambrose contesting the right-back role. Consistent back four selections do not guarantee defensive success, but they do tend to help, as each component player gradually becomes accustomed to playing with his colleagues.
Contrast and compare these figures with those of the 2015-16 campaign however and, once again, we can see a significant difference. Incredibly, Celtic started with twenty-six different back four combinations in just fifty-seven competitive ties last year, an average of almost one new selection every two games. No back four started more than seven matches, and only two selections even reached that lowly figure. Of course, injuries and suspensions were to blame for some of this upheaval, but poor individual performances from some did not help matters either.
Left-Back
Considering the prospect of next season's back four we can, of course, only speculate as to the decisions Brendan Rodgers will make. With that in mind, however, allow me to think aloud for a few moments regarding personnel.
I doubt I am alone in expecting Kieran Tierney to hold on to his starting place at left-back. Having made his senior debut towards the end of the 2014-15 season, Kieran made an incredible impact for someone of his age during the 2015-16 campaign, proving himself more than capable at both domestic and European level. Inevitably, this has won him endless plaudits from the Celtic support and the wider football public. It will be intriguing to see how he performs in the coming years, but he has been exemplary thus far and undoubtedly deserves his new contract. With Emilio Izaguirre's time at Celtic supposedly finished (although he currently remains with the squad in Slovenia), Rodgers may well look to bring in a replacement for him at left-back, although whoever this is will likely be the understudy to the aforementioned Tierney. Having said that, it's not impossible that Rodgers may not prioritise such a replacement, knowing Charlie Mulgrew could cover the position if required (presuming he signs a new deal, which he may not).
Centre-Back
Beginning with our most recent defensive acquisition, Erik Sviatchenko has quickly endeared himself to the Celtic support with his attitude and ability already clear for everyone to see. Having only missed one match since he made his debut in the Hoops, he has helped to solidify an inconsistent defence to some extent, whilst outlining the offensive threat he poses from corners. The sight of Erik choosing to spend some of his time off during the summer training alone has only added to his individual popularity, with some already going so far as to suggest him as a potential Club captain of the future.
Jozo Simunovic has only managed to play seventeen times for the Hoops thus far, with injuries hampering the Croatian. Having made his debut in the 2-2 draw away against Ajax, he missed the next seven matches, before returning to the team and featuring in sixteen of the next seventeen fixtures. However, less than a fortnight before the debut of Erik Sviatchenko, a serious injury ended Simunovic's season, preventing the pair from having the opportunity to form a defensive partnership.
Another option at the heart of the defence is Dedryck Boyata, who racked up more than 3,500 minutes of competitive football in his first season at Celtic Park. Remarkably, only Leigh Griffiths, Tom Rogic, Kris Commons and Nir Bitton scored more goals than the Belgian (with six to his name in all, putting him level with Callum McGregor, Gary Mackay-Steven and Patrick Roberts). Dedryck's future is still the subject of much debate, with many Celtic supporters yet to be convinced by his occasionally erratic performances.
Whilst we're on the subject of inconsistency, we must consider Rodgers' next option, Efe Ambrose. As everyone reading this will know, the Nigerian is prone to the odd error. For the sake of clarity, allow me to say this – I love Efe. Neither his work-rate nor his commitment cannot be faulted and, to his credit, he has made his fair share of crucial clearances when our backs have been to the wall. Naturally, due to the catastrophic nature of some of his errors, these more positive performances tend to drift to the backs of many minds, but I feel that I should not reasonably criticise him without mentioning them also. Indeed, I find it close to impossible to stay mad at him for long even when it is warranted. However, the role of a football fan and a football manager are very different. A fan is allowed to be emotionally driven and occasionally fickle, but a manager must be more pragmatic. For that reason, I would be surprised to see Brendan Rodgers rely too heavily on the Nigerian in future, keeping him as a squad player or seeking to sell him on, but I suppose you never know.
Finally, with Charlie Mulgrew still to decide his future at the Club with a new contract offer – on reduced terms – allegedly having been offered to him, we have no more central defensive options presently without acquiring new blood or delving into the youth ranks. Nonetheless, something tells me we won't be going out of our way to bring Tyler Blackett to Celtic Park on a permanent basis any time soon.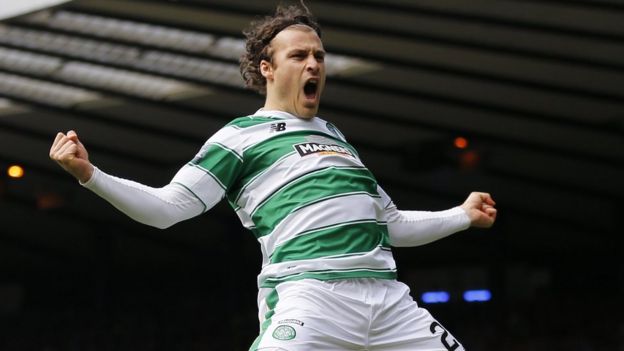 Right-Back
For years, Mikael Lustig and Adam Matthews battled for the hotly contested right-back slot in the starting eleven. With the Welshman having left Glasgow behind him in the summer of 2015, Swiss full-back Saidy Janko was purchased from Manchester United, much to the consternation of some United supporters. Janko was thought of highly upon his arrival, but a plague of injury problems meant he played less than 700 minutes of football in just ten appearances in his first ten months at the Club. He finally returned to action in May after an absence which ruled him out of thirty-five consecutive matches. I would suggest that we have not seen the best of Saidy Janko thus far, but whether or not he will be given an opportunity by Rodgers remains to be seen.
Celtic's recent right-back of choice has undoubtedly been the aforementioned Mikael Lustig. With the Swede set to turn thirty in December, his career still has someway to run presuming he can maintain a relative standard of fitness. Although he has a reputation as being injury prone, Lustig played almost 4,000 minutes of competitive football in a Celtic jersey last season, with only Leigh Griffiths narrowly pipping him to the title of the most featured outfield player. Lustig took part in as many matches in the 2015-16 season (46) as he had done in the previous two seasons combined, whilst also bettering his previous best for a total number of appearances in a solitary season at Celtic Park (39, 2012-13). Indeed, he equaled his best career total ever also (previously 46 appearances for Rosenberg in their 2010 campaign). On the flip side, there was some fairly strong criticism of his performances during the last season – with myself one of the critics in the early part of 2016 – but his the quality of his individual showings notably increased as the season drew to a close.
Notably, Anthony Ralston was handed his senior debut by Ronny Deila in his second to last match at the helm of Celtic Football Club, so he will represent another option open to the new manager, whilst Darnell Fisher has returned from a loan spell at St. Johnstone.
Conclusion
With injuries presently ruling out Jozo Simunovic, Dedryck Boyata and Mikael Lustig, Brendan Rodgers will not have his full pick of Celtic's current defensive options until the new season is underway. Like any new manager at a Football Club, he will likely chop and change his initial team selections, giving various individuals the opportunity to impress. It is probable that he will also turn to the transfer market in an effort to bolster his current squad, with a new centre-back and at least one new full-back high on many supporters' shopping lists. However, if this article does one thing, I would hope it has stressed the importance of comparatively consistent defensive selection. Injuries and suspensions will always threaten to upset this balance, but I would hope that during his first few months in the job, Brendan will be able to identify the quartet whom he believes to be his strongest back four and stick with it more often than not.
Presumably, it will begin "Kieran Tierney; Erik Sviatchenko…" but only time will tell who shall fill the other two positions.