Consecutive Draws Lead to Growing Dissent but Hope Must Spring Eternal
Having run this website for more than five years now, I can confidently state that it is a rare day whenever the Celtic support agrees entirely on any one topic online. Whether it's who should fill a particular position on the field, which formation is best suited to our squad or who would feature in our "all-time Celtic elevens", large scale agreements are not common occurrences, but I do not believe this to be a bad thing. After all, without differing opinions, the game which we all love would be significantly less interesting and we would not have a great deal to talk about. Now, whilst I could not – and would not – ever claim to speak for the fan base as a whole, I feel it is relatively safe to assert that the vast majority of Celtic supporters currently believe something is seriously wrong with their Football Club. Indeed, many people have felt like this, albeit to varying degrees, for months, if not years now. As individuals, we may not be able to put our respective fingers on the precise roots of these problems, but we are very aware of their existence nonetheless.
As the final whistle sounded in the East End of Glasgow last night, I stood for a minute by my seat and watched the remainder of the crowd disperse. Anger and frustration were prevalent emotions in the air, understandably so, but so was that of anxiety. For the first time in several years, Celtic find themselves in the midst of a serious title race. I, for one, will admit to the fact that whilst in 2012 I believed one of our competitors – perhaps Aberdeen, Dundee United or Hearts – would eventually challenge us for the Premiership title whilst there was no club playing their matches at Ibrox in the top of flight of the Scottish game, I did not believe that it would happen so quickly. Indeed, I also presumed that it would occur mainly due to one of our competitors seriously improving (which it must be said Aberdeen and a few others have done, to give them their due) rather than significant regression on our part. In this sense, I was certainly wrong, and perhaps somewhat naive also, as many of the problems currently facing Celtic have not simply come as a result of Ronny Deila's tenure.
Before addressing some of these issues in more detail, I feel I must also discuss the aforementioned Norwegian. Upon Deila's arrival in Glasgow, a relative wave of excitement spread across the Celtic supporting world, and not without good reason. Much of the football played during the 2013/14 season – the last of Neil Lennon's charge as Celtic manager – was not of a particularly good standard, nor was it massively entertaining to watch. One may reflect on this as an inevitability of sorts when considering that it directly followed the famous successes of the previous 2012/13 campaign as the Hoops secured a double and progressed to the last sixteen of Europe's top continental competition.
Regardless, as the familiar figure of Neil Lennon departed, the virtually unknown Ronny Deila took his place to much aplomb. First impressions are important in any walk of life and Deila won a lot of people over very quickly, including myself. Promises of fast, attacking football and almost superhuman fitness levels were appealing to the Celtic support, especially when they were delivered by a man who is an excellent speaker. Having had the opportunity to listen to Ronny discuss his footballing philosophy in person on one occasion, I too bought into his vision. Even amidst the current gloom, I will not change my opinion that I have never heard anyone speak as well about football from an ideological standpoint as Ronny did that evening, but talk and producing the results to back it up are two entirely different affairs.
The slow start domestically, including the debacles against Legia Warsaw and Maribor, were rightly forgiven when Ronny's side seemed to turn a corner around the turn of the New Year, as consecutive domestic victories mounted up and Inter Milan narrowly eliminated the Celts from the Europa League. We should never forget that only a shambolic officiating decision of the highest level of stubborn incompetence prevented his double winning Celtic side from a potentially historic Scottish Cup Final clash with Falkirk, but it wasn't to be.
This season, a campaign in which we all hoped the Club could push on and begin to move in the right direction with some consistency has instead brought significant helpings of frustration and disappointment. Another push to qualify for the group stages of the Champions League ended in relative ignominy, with the previous season's optimism being stripped from many supporters upon the scoring of Malmo's second goal late on at Celtic Park. Whilst walking along the streets away from the stadium that evening, there was an evident feeling not of victory – which the 3-2 scoreline did bring us – but of defeat. This pessimism was cemented, of course, during the return leg in Sweden. A Europa League campaign wherein some encouraging performances were tinged with self-induced moments of madness then followed, whilst two abject showings against Molde left a bitter taste in the mouths of many. A dramatic late goal from Leigh Griffiths won the New Year derby with Partick Thistle, and one could not help but wonder if – in a manner somewhat similar to last year – we may finally turn the illusive corner and begin to push onwards to success in the Spring. However, this has not been the case, as although victories over Stranraer, Dundee United, Hamilton and St Johnstone meant we had won five consecutive domestic matches for only the second time since April 2015, back to back defeats against Ross County and Aberdeen hurt us all badly. Subsequently, our most recent two draws have taken us to our current position – four points clear of Aberdeen with a notably superior goal difference.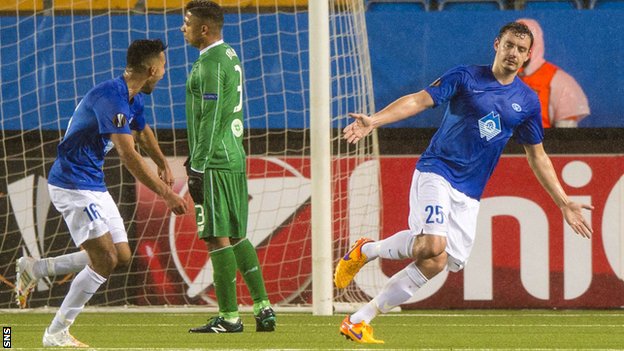 Make no mistake about it – we are in a serious title race and the fact that large numbers of people have actively considered the previously referenced goal difference is indicative of that fact. With ten matches left, the Hoops will have to play Hearts twice (a side whom we have not beaten in the League this season), Aberdeen once (having defeated us twice at Pittodrie whilst losing at Celtic Park), Motherwell once (whom we have beaten once this year whilst losing the most recent fixture at home), Kilmarnock once (a side whom we have not beaten this season, despite the fact they currently sit in eleventh place in the table), Partick Thistle at least once (having won both matches against them thus far), and a selection of sides depending on who makes the top six. Of course, the Dons have a similar run-in, but in any other season this would be considered a tight race which could go either way, and therefore we must treat it as such. The fact that our challengers do not wear blue should not skew anyone's opinions in this regard. With so much on the line – the chance for Celtic to win five league titles in a row for only the third time since the Scottish League's inception in 1890 – Celtic Park should be near to capacity for every remaining home match, and yet this will not be the case. Therein lies one of the major problems not simply for Ronny Deila, but for those within the hierarchy at Celtic Football Club.
For a variety of reasons, many people – some of whom still attend matches it must be said – feel disconnected from the Club which they hold so dear. Whether their main grievances involve the standard of football on offer; ticket pricing; kick-off times; the lack of public response from the Football Club to date regarding the scandal which has engulfed the Scottish game over the last few years; the effects of the Offensive Behaviour at Football and Threatening Communications (Scotland) Act 2012 (which the Club opposes) or anything else besides – the disconnect is there and if anything, instead of intensive efforts being made to narrow the gap, it has been allowed to widen. Focusing solely on the first of these matters, it is my belief that whilst the Celtic support can accept poor results every now and again, we cannot accept performances seemingly devoid of fight. The present team seem to capitulate with relative regularity at the first sign of adversity and as a result of this, there is a small part of me which feels oddly content with two points from our last two matches, because there were times in each tie when I thought a defeat was forthcoming. The much larger part of me, of course, is frustrated at the four points dropped during those two contests, but again this is indicative of where we now stand.
Having been as patient as I personally can be with Ronny, I would not be disappointed if he were to now leave the Club behind him. The same can be said for several members of his coaching staff and the playing squad. If he does remain in charge until the end of the season, which appears likely since there has been no movement today to the contrary, he will continue to have my support and I sincerely hope his side win each of their remaining fixtures. However, as I said earlier, the problems which we are now facing are not solely of Deila's making. They are the result of long-term strategical failings by the decision makers at Celtic Park. The malaise of mediocrity present around Celtic Football Club, both on and off the park, is not simply due to the adherence of a tactical decision to play a certain formation, it is the symptom of an unwillingness to alter a faltering system of governance. Three months is a long time in football, and with at least eleven games remaining in two competitions, the team deserve our utmost support during each of our remaining fixtures. A domestic double would be an enormous boost for everyone and could begin to heal numerous wounds, but it's best to focus on our next match, whatever that may be, from now until the end of May. There's still a lot to play for, and whilst that is the case, hope must spring eternal.