Another Transfer Window Comes To A Disappointing Close
It has been a few months since I last wrote an article for this website, thanks in large part to the fact I have had other work to attend to during the summer. Indeed, as the new season dawned, I gradually became rather optimistic that my first piece of the 2015/16 season would be a very happy one. Sadly, this is not to be the case, although for the sake of relative balance I shall attempt to consider both sides of the coin. Perhaps "coin" is an apt word to use in this sense as much of this article is connected to money in one way or another.
A little over a week ago, Celtic failed to progress to the financially lucrative realms of the Champions League group stages for the second successive season. Inevitably, this left the support feeling immensely frustrated, particularly when one considers the manner in which this exit came about. Our apparent inability to defend corners coupled with a habit of shooting ourselves in the foot was rightly lamented, but the passing of a few days and a formidable Europa League draw soon buoyed Celtic spirits to some extent once more. After all, neither Ajax nor Fenerbahce would look out of place in the Champions League group stages most years, with no disrespect intended to Molde, who have not seen this stage of the competition since the turn of the century.
Regardless, with the despair of our defeat to Malmo fresh in the minds, Celtic were presented with an opportunity of sorts. Nothing could alter the events which took place in Sweden now – with no Legia-esque player eligibility issues coming to our aid on this occasion – but we could begin our attempts to right the wrongs of that misfortune immediately nonetheless. With Dutchman Virgil van Dijk set to become the latest Celtic star to depart Glasgow for Southampton, it was clear a figure exceeding £10,000,000 would soon be heading north as payment. Of course, some – perhaps much – of this could be kept back in order to offset some of the shortfall caused by the aforementioned loss to the Swedish champions.
According to Wikipedia, Celtic's total income from transfer fees received during the transfer window which closed last night was £14,000,000 – a very reasonable amount when one remembers we only received a serious transfer fee for three outbound players, Adam Matthews (£2,000,000), Teemu Pukki (£500,000) and the aforementioned Virgil van Dijk (£11,500,000).
Equally, our cumulative expenditure was relatively substantial, with circa £7,000,000-8,000,000 being spent on incoming players. Due to an undisclosed fee for Logan Bailly (said to be six figures) and an unknown compensation amount paid to Manchester United for Saidy Janko, one cannot nail down this combined spend with precision. However, to give the Celtic board the benefit of the doubt, we'll call this an £8,000,000 total. With the exception of the 2013-14 season, we have not spent more than this during a summer transfer window for five years, despite bringing in almost £35,000,000 profit from our transfer dealings during that same half decade spell.
Considering the last ten years at Celtic Park, from the start of the Gordon Strachan era until the present day, I have compiled the following graph showing our income and expenditure from transfer fees every year. Please note, this does not take into account other sums involved in the Club's finances (season ticket sales, television money, Champions League/Europa League revenue etc).
Now, in recent years, Celtic have played what ironically could be described as a sensible business game from a financial standpoint but a reckless one from a footballing perspective. The first of these reflections can be summed up simply by saying we have brought in far more money than we have spent, therefore continuing to solidify the financial security of the Club. However, the latter requires a slightly lengthier explanation.
The 2012/13 season, which would ultimately see the beating of Barcelona and progression to the last sixteen of the UEFA Champions League, should have been a massive springboard for Celtic. Yet, despite the successes achieved therein, its legacy thus far, in terms of European engagements, has been riddled with torn out hair and often chewed fingernails. Many people forget that we endured a nervy away leg against Elfsborg before a dramatic clash with Shakhter Karagandy – both of which could easily have went the way of our opponents – before the group stages of the 2013/14 tournament were even reached. These tight affairs should have been considered as warning shots across our bow and learnt from, but they were not.
This may be forgivable as the following season's qualifiers saw a new manager attempt to coach a beleaguered squad into playing a radically different footballing system from that of his predecessor, but once again another warning was provided, with it coming in the form of Legia Warsaw on this occasion. Again, the sands of time may have allowed some people to forget the nature of our defeat in Warsaw, but had the home side converted their two penalties and taken any more of their plethora of good chances, it would genuinely have been one of the heaviest losses ever suffered by any Celtic team. Thankfully, this was not to be. UEFA provided us with a "get out of jail free" style card by awarding us a 3-0 win over the Poles at Murrayfield, but alas, Maribor would soon send us packing all the same.
Ronny Deila then impressed us all by leading his team – the make-up of which was far from perfect – through to the knockout stages of the Europa League, where they fell valiantly to Inter Milan. Key positions in the squad have been improved since the Norwegian's arrival. Considering the defeat against Maribor for a moment, it becomes abundantly clear that the Celtic side of the present has improved markedly on that which was in play just a year ago.
Celtic 0, Maribor 1
Starting Eleven: Gordon; Izaguirre, van Dijk, Lustig and Ambrose; Mulgrew and Kayal; Berget, Johansen and McGregor; Stokes.
Substitutes: Commons, Matthews and Boerrigter.
Unused Substitutes: Zaluska, Denayer, Bitton and Griffiths.
Stopper Craig Gordon has proved himself to be a revelation, with new arrival Logan Bailly replacing long-term back-up Lukasz Zaluska. The defensive unit, despite continuing to show some frailties, has received investment. Virgil van Dijk and Adam Matthews have departed as we have discussed, but the additions of Jozo Simunovic, Dedryck Boyata, Saidy Janko and Tyler Blackett could conceivably make up an entire back four alone. Eagle-eyed readers may have noticed the fact I have not mentioned Jason Denayer at this point, but I shall come back to that.
In midfield, we would collectively balk at such a selection nowadays. Beram Kayal and Jo Inge Berget have moved on, and whilst Charlie Mulgrew remains a willing utility player, Callum McGregor has retreated largely to the role of a substitute. In this sense, only one of the five starting midfielders – Stefan Johansen – can now truly be considered a member of the first eleven, and much of this can be attributed to money spent. Gary Mackay-Steven and Stuart Armstrong began the collection of Scottish talent which was set to arrive at Parkhead in January of this year, quickly establishing themselves in the squad in doing so. Since then, Deila has secured Scott Allan from Hibernian and Ryan Christie from Inverness Caledonian Thistle (although the latter has returned to his previous club on loan for now). These acquisitions are worthy of much credit, and signal a change in our signing policy of late. Indeed, whilst Celtic have been criticised in the past for not signing enough Scottish talents, we now face similar consternation having secured several native players, but such is life in Scottish football. Also, with Scott Brown's return from the injury which ruled him out of the qualifiers last year and the emergence of the sublime Nir Bitton, it is obvious our midfield department has improved.
Now, as one would expect, we have arrived at the matter of strikers. Before continuing, I must highlight that in my opinion, the Celtic team which fell to Maribor signifies one thing above all others, and it is this – Ronny Deila was still in the earliest stages of learning about his squad at that time. One only needs to look at the three outfield substitutes he chose not to deploy that night – Jason Denayer, Nir Bitton and Leigh Griffiths – to see this. After all, two are now vital members in the spine of the present team, whilst the other, who is beginning a new chapter in his career on loan in Turkey, may well become a global star in the future. To think Ronny left these three men out in favour of Mikael Lustig at centre-back, Beram Kayal at the base of midfield and Anthony Stokes as a lone striker would seem unthinkable now, and proves my previous point that our manager was still learning (as he always will be to some extent). After all, could one foresee a scenario now where Deila, desperately in need of a goal with only one substitution remaining, would turn to Derk Boerrigter as opposed to Leigh Griffiths?
During the last campaign, 51 of Celtic's 130 competitive goals scored were netted by recognised strikers (approximately 40%). Of these, Leigh Griffiths struck 20, John Guidetti 15, Anthony Stokes 8, Stefan Scepovic 6 and Teemu Pukki 2. The latter two men cost us the total of £4,700,000, but I'll return to the issue of money momentarily. If we are fortunate enough to net a similar number of goals during the current campaign, not only will the man who is undoubtedly our top striker need to have a great season, but his counterparts Nadir Ciftci and Anthony Stokes will be required to contribute notably also. If, for one reason or another – be it injury, suspension or simply poor form – this does not occur, our results will face a downward trend as a result. This is not to say a great season is an impossibility – far from it – but it is a gamble nonetheless.
Whilst Nadir Ciftci has not found the net as yet, some people have been far too quick to criticise the Turk, as Ronny clearly believes him to be in possession of some potential. Well-built, strong and capable of holding the ball up, he offers something different from Leigh Griffiths, even if he does lack pace. One would expect he is far more likely to make it as a lone striker than the only other forward currently at the Club, Anthony Stokes, who has fallen out of favour in recent times at Parkhead. Indeed, the Irishman has not started a match as a lone striker since a two-nil away win at St Mirren on the 3rd April 2015, and he has not scored from this starting position since the 6-1 win against Dundee United on the 16th August 2014. For the record, that was Deila's first match at Celtic Park, and none other than Jo Inge Berget grabbed two of the goals.
This season, Leigh Griffiths has scored 8 times already, currently accounting for about 30% of Celtic's goals in 2015/16 thus far, with the Edinburgh born striker well on his way to bettering his previous total. In this regard, his importance to the relative success or failure of the current Celtic squad cannot possibly be overstated. Put simply, by not investing suitably in the forward department of our playing squad, we are now playing a very risky game until January at the earliest. Should Griffiths suffer a bad injury, for example, our options to replace him temporarily are scarce. The mind boggles as to why we allowed Stefan Scepovic to go on loan to Getafe without bringing another striker in ourselves, particularly when he scored six goals in eight starts last season, two of which came in the Europa League group stages. Simply from a numbers perspective, I cannot understand the Club's reasoning in this regard. I have spoken to a few supporters who feel our current forward roster – Leigh Griffiths, Nadir Ciftci and Anthony Stokes – is sufficient, and they are perfectly entitled to their opinion, but I cannot shake the feeling we are a man light at present. Perhaps Ronny may look to the youth ranks at the Club should injuries or suspensions mount up, but significant pressure would likely fall on any youngster to perform, when at that age nobody should really be lambasted for inconsistency.
However, even with a fully fit Griffiths, we risk becoming somewhat one dimensional tactically. Sides such as those we will soon face in European competition (as well as our domestic counterparts, whom we must never underestimate) will work hard to nullify our main threat – as one would expect – but with only Nadir Ciftci as a serious replacement these teams will be aware of our limitations. As such, we may have to rely heavily on the midfield unit to provide a significant number of goals, with the efficient use of set pieces also critical in order to achieve success.
In the last five years, we have spent a combined total of £15,700,000 on the following ten strikers: Amido Balde (£1,800,000), Mohammed Bangura (£2,200,000), Nadir Ciftci (£1,500,000), Leigh Griffiths (£1,000,000), Gary Hooper (£2,400,000), Daryl Murphy (£800,000), Teemu Pukki (£2,400,000), Stefan Scepovic (£2,300,000), Anthony Stokes (£1,200,000) and Tony Watt (£100,000). From the relevant sales of six of these men, we retained £7,200,000, only making a profit from Gary Hooper and Tony Watt. Indeed, excusing Hooper – undoubtedly our greatest financial asset in this department of late – the figures alter to £13,300,000 spent and only £1,700,000 recouped. This does not make for pleasant reading, particularly as it is unlikely that the four men who remain on our books in one way or another are worth £11,600,000 between them, but it does hint somewhat towards the problems which we face.
Whilst good strikers have always been a rare commodity in world football, affairs have worsened in recent years with the insane spending power of football clubs in certain leagues, particularly those in England, who can not only pay big transfer fees, but hand out ridiculous wages also. In this regard, it should not come as surprise that Celtic are limited in those forward options they can attract to Glasgow, particularly with the lack of Champions League football on offer. Many players are genuinely happier now to sit on benches and play the odd match whilst collecting larger cheques than they would elsewhere playing regular football, but that is their decision.
Gone are the days of Henrik Larsson, John Hartson and Chris Sutton (at least for now) – people must accept that – but those running the Club must adapt their strategies also. To find ourselves in our current predicament, wherein we have worked hard to improve the goalkeeping, defensive and midfield areas of our squad whilst negating our forward line, is very disappointing. The sudden interest in Scottish players has been welcomed, and rightly so, proving that change is possible.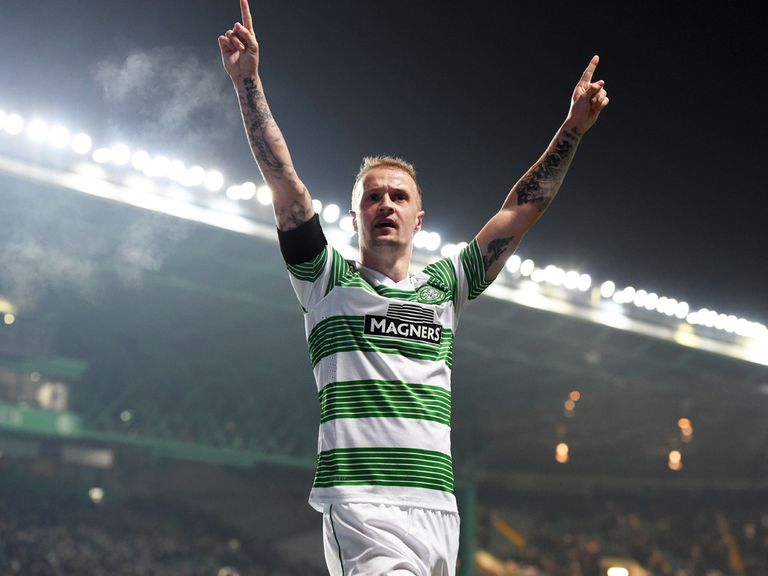 In the days and weeks ahead, much discussion and perhaps hilarity will be derived from proceedings south of the River Clyde. However, it is critical to note that, undoubtedly amusing though that sideshow may transpire to be, it is only that, a sideshow. Our main focus remains at Celtic Park.
Running a Football Club is unlike any other challenge as it blends both cold, calculated business instinct with the emotions naturally inspired by sport – love, hope, despair etc – and although I obviously have no experience of doing so myself, I assume it is a very difficult task. Contact may well have been made with the likes of Michu and Steven Fletcher, but contingencies should have been in place so that if and when such "big" deals fall through, other options can be promptly put into motion. Perhaps the decision makers are Parkhead feel their current strike force is adequate, or they were reluctant to risk wasting any more money on another poor striker, but whatever the reasoning may be, it is my belief – and I know I am not alone in this – that the current situation is not good enough.
First and foremost, the financial viability of Celtic Football Club is paramount, with the death of our long-term rivals a few years ago re-emphasising that point. The continued survival of the Club must always be the first objective of any board, with the ambition for prosperity the next matter for consideration. Allow me to be clear, neither I nor any other supporter wishes Celtic to spend recklessly or pay exorbitant wages. Equally, nobody wants us to spend money which we do not have or take out loans in order to delay financial consequences for later years. Having said that, it is not unreasonable to expect that as much money as possible – barring operating costs such as paying staff, stadium maintenance and an almost endless stream of other examples besides – should be invested into the playing squad at Parkhead. Certainly, it should not be a particularly unrealistic ambition to see more than three senior strikers on the books.
For Celtic Football Club to thrive the board, the team, the manager and the supporters are reliant on each other. If all is not well with one of these elements, the Club will suffer, as we have seen on various occasions in the past. The support will always back the team, even through the poorest runs of form or worst displays, but in order for the Football Club to progress, the support must feel that the Club are backing them with the same vigour and determination which the fans exhibit every week in life. If this is not the case, frictions inevitably arise, and there is only so long that such emotions can be allowed to fester before more serious problems come to the fore.
Many Celtic supporters spend a significant chunk of their annual income following their Football Club, be it by purchasing match tickets, subscriptions to Celtic TV, merchandise, or much more besides. Whilst they do not expect endless victories or perfect seasons, they wish to be entertained and to feel their financial and emotional investments have been repaid in sporting terms, or is this a forlorn hope? The Malmo defeat, not only in monetary terms but with regards the feeling amongst the support was a body blow. The good feeling generated by the grandeur of a full stadium and the glamour of six Champions League group stage games was lost, but there was a chance for some of this to be retained following the Europa League draw. However, with the majority of the support now feeling shortchanged having seen the end of the transfer window arrive without another striker being added to the squad, some of this – again – has dissipated. Notably, increased investment does not guarantee success, and our recent losses to smaller financial outfits in Maribor and Malmo are testament to this, but it does improve your chances.
At present, there is still much to be positive about – we have a talented young manager in Ronny Deila who may make mistakes but has potential which is clear to see and a squad boasting several young and exciting talents – yet, many Celtic supporters including myself currently feel unhappy. If nothing else, this is an indication that something has gone wrong at Parkhead. If we are to see the upper tier shut for the Europa League games this season it will be disconcerting, and whilst I shall attend, I will not criticise people who choose to vote with their feet and keep their hard-earned money. As I have said before, the support must feel valued and appreciated if they are to be at their best.
In the weeks, months and years ahead, I think I can speak for everyone when I say we do not wish to see any more scenes like that pictured above, but rather those featured below, and with that I would like to wish Ronny Deila, his players and each and every Celtic supporter all the very best for the 2015/16 season and beyond.