Perhaps the Most Difficult Away Trip on the Domestic Calendar?
The clamor for tickets for Celtic's match against Aberdeen at Pittodrie this Saturday is indicative of two things. Firstly, with the reduction in our away allocation last season, there are not enough briefs to accommodate the usual travelling support suitably. Secondly, it tells of the newly regained magnitude of the fixture, and in a country in which sections of the press often like to talk down our national game, this is not something to be taken for granted.With that in mind, I thought it would be appropriate to consider our recent journeys to the Granite City and ponder the prospects of Saturday also.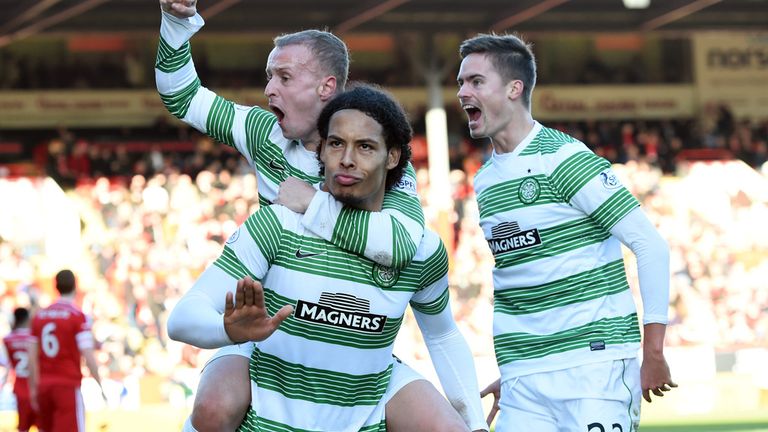 Aberdeen 1, Celtic 2 – 9th November 2014
Celtic: Zaluska; Izaguirre, Denayer, van Dijk (90), Matthews (Lustig); Brown, Mulgrew, Stokes (Griffiths), Forrest (McGregor), Johansen (38); Guidetti
Unused Substitutes: Fasan, Kayal, Wakaso, Scepovic
At the end of last season, Celtic found themselves as the champions of Scotland by a comfortable seventeen point margin, but it should not be forgotten that the twelve points which we took from Aberdeen were important in this sense. After all, had both sides won their home matches against each other, this gap would have narrowed to just five points. Yet, a result at Pittodrie is not only vital in terms of our points total, but morale. Ronny Deila's Celtic first truly sparked into life when they overcame the Dons by two goals to one there in November last year. Having seen Scott Brown harshly sent off following two yellow cards and with the score tied, Aberdeen would have likely fancied their chances of obtaining a big victory, but it wasn't to be as Virgil van Dijk's deft last minute flick from a corner found the net. Celtic were resilient in the face of adversity that day, and the celebrations which followed spoke for themselves. The boost this gave not only the support, but the manager and his playing squad cannot be overestimated, whilst it must have hurt all those associated with Aberdeen. Had the Dons won the match, things may have turned out to be tighter at the top.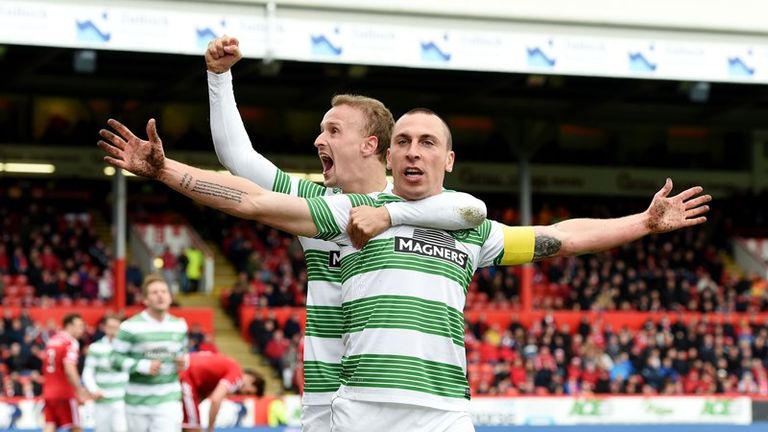 Aberdeen 0, Celtic 1 – 10th May 2015
Celtic: Gordon; Izaguirre, Denayer, van Dijk, Fisher (Matthews); Brown (49), Bitton, Armstrong (Ambrose), Johansen, Commons (Forrest); Griffiths
Unused Substitutes: Zaluska, Rogic, Mackay-Steven, Scepovic
Again, another tightly fought contest saw the Hoops emerge as the victors by only a single goal as captain Scott Brown banished the demons of his previous trip to Pittodrie. Regaining possession of the ball for his side via a tremendous hard but fair tackle on the edge of his own box, he led his side as they surged forwards before continuing to keep up with play as the attack progressed. Stuart Armstrong expertly beat two men on the left hand side before drilling a low cross across the goalmouth which his captain happily struck home. Again, this sparked great celebration, and Brown was rightly the receiver of many plaudits that day.
Yet, it is only when one considers these two matches in some detail that both the challenges which a trip to Pittodrie presents and the differences between these recent journeys and the one which awaits us at the weekend becomes clear.
Firstly, as the picture above alludes to, Ronny Deila has a notably different squad at his disposal nowadays, particularly when one compares the present team with his first trip to the Granite City. With the departures of Lukasz Zaluska, Jason Denayer, Virgil van Dijk, Adam Matthews, and John Guidetti, combined with the general favour of his chosen line-up's, it is likely only three or perhaps four of the Celts who took to the field at the start of the match in November 2014 will do so again on Saturday – Emilio Izaguirre, Scott Brown, Stefan Johansen and possibly James Forrest. Indeed, even if Charlie Mulgrew did obtain a place in the first eleven, he may replace the Honduran and in doing so, not increase this total number. Equally, it is unlikely any of the unused substitutes from that day will take part, with Leo Fasan the only one of those men who remains at Parkhead. Of course, Ronny's starting eleven from May last year has more of an air of familiarity about it, but even then three of the four defenders will alter and the midfield line up may change slightly also. Indeed, only Emilio Izaguirre, Scott Brown and Stefan Johansen have any chance of starting a third consecutive Celtic match at Pittodrie this weekend.
Now, another aspect of these matches is the statistics behind them. In both away trips last year – indeed, in all four matches against Aberdeen during 2014/15 – no side managed to attain more than 53% possession in any one tie, with each having the best of one home match and one away fixture. Therefore, it can be said with certainty that neither side has truly dominated the ball (of course, dominating results is a different thing altogether) against each other in the last year. Likewise, there was very little between the teams in terms of their attempts in the two matches at Pittodrie, with Celtic having twenty-one and the home side twenty. A difference begins to appear when one looks at shots on target, with Celtic's thirteen being more than double Aberdeen's six, and the most telling gulf of all came in goals scored, with Celtic's three indicating one of every seven attempts they had found the net, whilst Aberdeen's one told only one in twenty of theirs did. However, the Dons did hit the woodwork and force some good saves from Celtic's goalkeepers, so do not be deceived entirely by this. They have been very even ties, with Aberdeen having the best of the corner kicks and both sides producing an almost identical number of fouls and cards.
Aberdeen – Celtic, 12th September 2015
Possible Celtic Line-up (dependent on fitness, etc): Gordon; Izaguirre, Simunovic, Boyata, Lustig; Brown, Bitton, Armstrong, Forrest, Johansen; Griffiths.
So, whilst nothing is certain in football, what can we say about Saturday's upcoming clash with Aberdeen? Well, firstly it is safe to assume both sides will give it their all, loudly backed by their own vocal supporters. Secondly, one would expect the momentum within the match will swing back and forth as it has done distinctively in each of the last two ties between the sides at Pittodrie. With Celtic's newly formed defence and a stronger attacking line-up for the Celts than they had at their disposal last year, we may also see a more high scoring encounter than we have done for some time. The Hoops do lead the table by one point from Aberdeen (and Hearts) at this point in time, but unlike either ourselves or the Edinburgh side, the Dons have only played five matches thus far and they have won all of them, scoring nine goals and conceding just one. Celtic have scored sixteen themselves, almost double that of this weekend's opponents, but we have also lost six ourselves – in our last four domestic matches no less – and this must be a cause for some concern for Ronny Deila. This does beg the question as to which defensive four he will choose for Saturday's tie. Will it be his usual selection (save for the new Croatian number five) – Izaguirre, Simunovic, Boyata and Lustig, for example – or a day for the new Bhoys – Blackett, Simunovic, Boyata and Janko (or some combination of both)?
One would expect the goalkeeper, defensive midfield pair and lone striker will pick themselves, with Gordon, Brown (providing he is fit), Bitton and Griffiths all likely to start. Notably, Nadir Ciftci's suspension is now over and therefore we could see him make his domestic Celtic debut, albeit probably from the bench. If he were to start however in a game of such a magnitude early on in the season, a good performance could be just what he needs to prove some of his doubters wrong, or but the opposite could be the case if he were to play poorly. Having seen so many strikers considered to be "works in progress" come and go in recent seasons with little success, one thing is certain, the Turk deserves time.
Regardless, whilst matches such as that we will witness on Saturday are not the be all and end all of any given season coming early on in the campaign, they are very important and must never be taken for granted. We enjoyed a perfect record against Aberdeen last year, so the question for Saturday and beyond is simple, can we continue it? I, for one, sincerely hope so.
As always, your thoughts on this match, potential line-up's and anything else besides are very welcome. Simply tweet us via @MaleysBhoys on Twitter or leave a comment below.
Thirty years ago today, Celtic Football Club, Scottish Football and the sport as a whole lost a colossus in the form of the legendary Jock Stein. An inspiration to many and an example to countless more, his achievements and story will outlive us all. Rest in peace, Jock.