Another Week, Another Step Closer To Four In A Row
Good afternoon ladies and gentlemen, and welcome to the second installment of this series, attempting to give you a round-up of the previous week's news and views in one thousand words or less.
Earlier this week, I stumbled across this video whilst wasting time on YouTube one night. Yes, when I first saw it, only ninety-five other people had watched it during its six days online, but now, just five days later, the video has had over twenty-four thousand views. I cannot take any credit for the video itself (that must be reserved exclusively for Ronny and whoever took the time to translate his excellent lecture), but if nothing else it does show the power of the internet to spread modern media to the masses. I'm happy I was able to bring it to the attention of the many people who thoroughly enjoyed it though, I must say that, and some of the nice comments which have come my way have been very much appreciated as always. Clearly, Ronny Deila has the potential to be a special manager, and I know I am not alone in feeling we are lucky indeed to have him at Celtic Park. For anyone who missed the video, it is available below in all of its magnificence.
As many of you will know, season ticket renewal forms have started to drop through postboxes across Scotland and beyond recently. The £50 increase of adult prices back towards their original levels has been begrudgingly accepted by many, but inevitably the caveats surrounding youth concession tickets have caused a firestorm of sorts. To cut a long story short, no youth concession season tickets include any potential league matches against Sevco in their advertised prices, and should these ticket holders wish to attend these matches if they arise, they will have to pay for a full adult match day ticket to do so. This was the case prior to Rangers' demise also according to the Football Club, but times have changed dramatically. Firstly, no non-adult should ever have to pay for an adult ticket at Celtic Park. Secondly, the principle which this policy sets is completely wrong. Sevco are no longer the Rangers of old, neither in terms of stature nor footballing ability, and should be treated as such. All league matches should be included on any individual season ticket (unless anyone wished to opt out of Sevco matches) and each should work out to be the same price – it should not cost a season ticket holder more to see a league match against Aberdeen than it would to watch an equivalent fixture versus St. Johnstone, for example. Lastly, if someone purchases a youth concession season ticket prior to the outcome of the Championship play-off's, they are clearly doing so because they wish to watch Celtic next season, not any particular opponents, and should be charged accordingly. And yet, having said saying all of this, hopefully these issues will not come to pass dependent on the results of the aforementioned play-offs.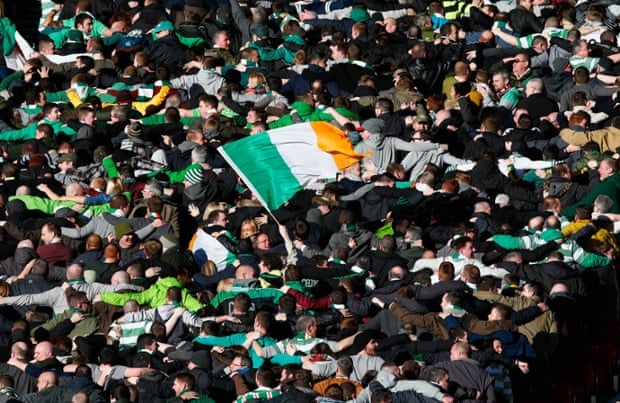 In other news, John Guidetti was "censured" by the Scottish Football Association this week for an offensive remark which he made quoting the song sung by the Celtic fans about him on Dutch television. However, in typically transparent style, there has been no clarification from the governing body as to exactly what they deemed to be offensive. Presumably, it was "the huns are deid" reference but regardless, the "censure" of Guidetti is telling in itself. Essentially, all the S.F.A. did was to try to make it appear as if they were doing something when in reality they were not. Guidetti cannot be punishing for using the word "hun" because, derogatory though it is, it has no religious or racial element attached to it. The whole charade was a waste of time, in truth.
At the weekend past, Celtic took another step towards the Scottish Premiership title, defeating Dundee United at Tannadice by three goals to nil thanks to a hat-trick from Leigh Griffiths. As such, the striker is now averaging one goal scored for every one hundred and five minutes of football he has played this season in all competitions, well ahead of the other attacking players in the squad. Griffiths deserves great credit for his performances this season, as does our recently announced Player of the Year Stefan Johansen. A win tonight against Dundee, coupled with a draw or a defeat tomorrow at Tannadice for Aberdeen will confirm Celtic's place as the champions of Scotland once more. Regardless, I personally expect a strong showing and several Celtic goals tonight, as Friday night football returns to Celtic Park. Congratulations to the Glasgow Cup winning young Celts also.
One month today, if I am to meet the deadline which I have set myself, then I must have completed the draft script of my upcoming book "Uniquely Celtic". Having surpassed the 160,000 word mark recently, I should perhaps feel more confident than I presently do about achieving this aim, but hopefully I'll get there.
I've decided to delay the release of our catering survey results until next week, partly because an important weekend of football awaits and also a certain "super-fight" to be broadcast from Las Vegas. After all, myself included, who cares much about the food at Celtic Park when there's such a weekend of sporting action to be enjoyed? These issues can wait.
I am delighted to announce that with a few weeks of the season remaining, our current total raised for Alzheimer Scotland is £1,390.66. Tickets for our upcoming raffle are still available here. As such, even if we do not raise a penny more, this will prove to be our second most successful fundraising season to date. You all have my thanks for your continuing support, we could not achieve these feats without you.
And so, I'd like to wish you and your families all the best for the week ahead. Good luck Manny.