A Statistical Breakdown Of Celtic's Season So Far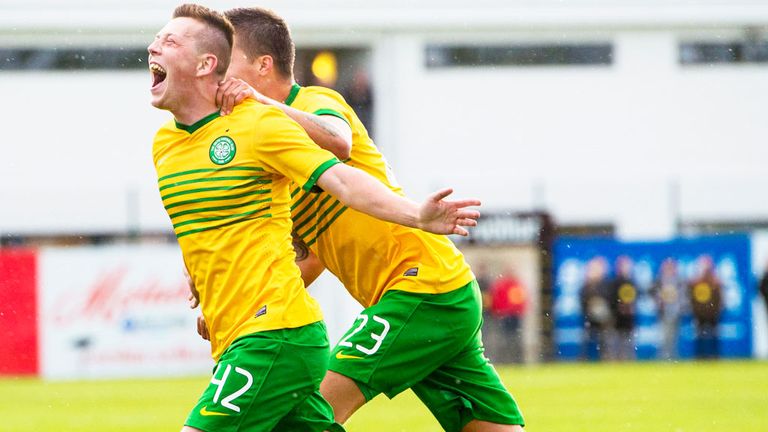 Introduction
Good evening ladies and gents, I trust you're all in a rather buoyant mood as in the last week alone we've secured our first Scottish League Cup since 2009 and came through a replay to book our place in the Scottish Cup semi-finals scheduled for the middle of April. However, what some people may have overlooked today is that Virgil van Dijk's injury time tap-in last night, although irrelevant to the outcome of the tie itself, carries some significance, for it was the hundredth competitive goal which Ronny Deila's Celtic have scored this season in all competitions.
As such, I've decided to write a brief article on Celtic this season from a statistical standpoint. After all, its been a long time since Callum McGregor's goal in Iceland opened our goalscoring account, as is pictured above. If football stats are your thing, then please read on as I presume this will appeal to you, but if not, you might feel your time could be spent better elsewhere, I know stats aren't everyone's favourite subject. Regardless, for those of you who decide to delve in, enjoy.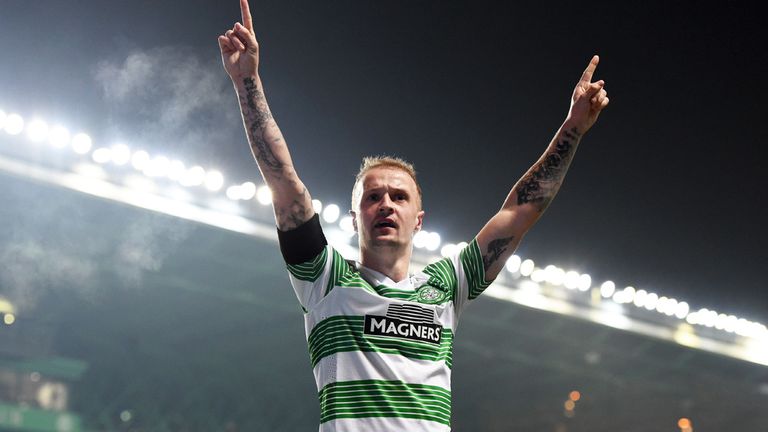 Goals
Well, for a start, let's have a glance at where the one hundred goals in question have arrived.  Fifty-five have come at Celtic Park, forty-one have been scored at away grounds, whilst the other four were netted at Hampden Park, which is, of course, a neutral venue. Also, for anyone who may interested, only Leigh Griffiths, Anthony Stokes and Callum McGregor have scored more goals away from Celtic Park than they have done at home.
Six of these hundred goals have been penalties, with both John Guidetti and Kris Commons scoring two each, and Leigh Griffiths and Nir Bitton responsible for bagging the other two. Three own goals have added to our scoring tally, with two arriving in Europa League competition against Dinamo Zagreb and Inter Milan, whilst the other one came against Hearts in the Scottish League Cup.
Continuing on in this vein, on average we score one in every 7.65 shots we take, whilst our opposition only score one in every 10.95 they attempt. They may just sound like random numbers, so allow me to quantify them somewhat. Of the 765 attempts we've had to score this season, 100 have resulted in goals, whereas of the 416 attempts our opponents have had, only 38 have resulted in goals for them (half of which were scored by Legia Warsaw, Red Bull Salzburg, Dinamo Zagreb and Inter Milan it must be said). Therefore, our current goal difference for the season, if we combine our goals scored and conceded in all competitions is +62.
And so, let us turn our attentions to the scorers of our one hundred goals.
Despite his barren spell of late (dramatic equaliser against Inter Milan aside), John Guidetti still leads the scoring charts, with thirteen goals to his name. However, Kris Commons, Leigh Griffiths and Stefan Johansen are hot on his heels, with twelve, eleven and ten goals respectively. As such, these four players essentially account for almost half of all Celtic's goals thus far this season.
When one considers the fact that Stefan Johansen only scored two goals last year (in seventeen appearances having been signed in the January transfer window), it is a pleasant sight indeed to see him scoring on a more regular basis nowadays. Of course, Ronny Deila's decision to push him into a more offensive position in the midfield set-up must take some credit for this, but the point stands.
Regardless, whilst John Guidetti also leads the way in the "minutes played per goal" standings, with a current average of one every 131 minutes, Leigh Griffiths, who has actually played the equivalent of approximately two matches less than the Swede, has been gradually chipping away at his advantage for months now. Griffiths currently averages one goal every 137 minutes, and I doubt I am alone in thinking he will likely overtake his counterpart in the coming weeks and months when current form is taken into account. Other ratios of note are displayed below:
One critical point of note is that of the number of goals coming from the defensive line this season, the current total of which stands at eighteen. Over the entire course of our last campaign, this figure finished at just eleven. Now, when one considers the fact that we are only currently midway through March, and therefore a few more goals are likely to arrive from Virgil, Jason and company before the end of the season, the importance of this becomes clear.
Equally, changing our focus to the other end of the field, we come to the revelation which has been Craig Gordon. Doubted by many (including myself), not for any lack of ability but for concerns regarding a recent lack of playing time and a history of long term injuries, he has proven himself to be a truly integral part of the current Celtic team, producing an array of stunning saves in the process. At present, Craig has made forty-one appearances for Celtic in all competitions, and to his immense credit, he has kept twenty-one clean sheets (including eight consecutive shut-outs), giving him an admirable clean sheet ratio of 51%. Lukasz Zaluska, for the sake of clarity, has kept one clean sheet in four appearances this season.
Possession
Another individual whose influence mustn't be overlooked is Nir Bitton. Initially left of out the squad largely in favour of Charlie Mulgrew, he too has seen his standing within the Celtic squad rise rapidly after an array of sterling performances. To quantify this, Celtic have won 64% of the matches which Nir Bitton has started this season, compared to 62% without him. Now, at first that may not seem like much of a difference, but when we begin to peel the layers back, the significance of it will become clear.
For example, included in the figures without Nir are two victories against K.R. Reykjavik who, with the greatest respect to them, were not a side we would expect to draw or lose against – therefore, for the sake of this comparison, I shall discount them. Doing so drops the latter percentage to 59%, whilst ignoring the second leg of the Legia Warsaw debacle and a mish-mash style team put out at Inverness between the Maribor games increases Nir's win percentage to 70%. Of course, I could be accused of twisting the figures to suit an argument, and I suppose such an argument could be made, but one statistic which does not require any dressing up is this – since Charlie Mulgrew last played for Celtic (a one-nil home win against Partick Thistle in early December), Nir Bitton has started all but one match in his old position, and since then, Celtic have won 70% of the matches which Bitton has started.
In terms of team possession, we have enjoyed an average of 57% of the ball in all of our matches across this season, with the individual peaks and troughs coming against K.R. Reykjavik (75% home and away) and Inter Milan (34% away) respectively. We've dominated the ball in forty-one of our forty-nine matches thus far this season, and that is pleasing for a variety of reasons. After all, when you have the ball, your opponent cannot score (unless you're Cha Du Ri and you feel like attempting a pass back, that is).
Cards
Ignoring double yellows momentarily, Stefan Johansen has been booked more than any other Celtic player, with eight yellow cards to his name thus far. However, the inclusion of double yellows (and therefore red cards) would allow both Virgil van Dijk and Scott Brown to overtake the Norwegian and share the title of the most carded player, with nine cards in total each. Of course, whether or not such statistics have anything to do with the fact we have committed more fouls than our opponents in more than half of our matches this season (including ten of our last eleven ties) remains to be seen.
Conclusions
In closing, I feel it is clear to see that Ronny Deila's Celtic are continuing to progress from strength to strength. Having struggled to settle on his best eleven early in the season (not helped by the unavailability of some players at points due to injuries and suspensions), it is now relatively easy to predict the majority of most Celtic starting elevens.
Craig Gordon has been imperious in goal; three of the back four – Emilio Izaguirre, Virgil van Dijk and Jason Denayer virtually pick themselves, with the right back slot now contested by three players; Scott Brown has led the team with his usual verve and determination whilst his partner at the base of the midfield, Nir Bitton, is proving himself to be a magnificently talented player capable of picking out sublime passes and brushing aside opponents with the minimum of fuss; new additions Gary Mackay-Steven and Stuart Armstrong (not mentioned in this article previously) have settled into the team instantly and if it weren't for their ineligibility in cup competitions, they would likely be starters every week, and Stefan Johansen remains one of the most important figures in the squad; and finally, Leigh Griffiths appears to be Deila's striker of choice, certainly in recent times, and his industrious work rate coupled with a clear desire to score goals is pleasing on the eye.
Of course, there are other important individuals within the squad, including Kris Commons, Adam Mattews and Efe Ambrose to name but a few. In my opinion though, I'd now consider our strongest starting eleven to be: Craig Gordon; Emilio Izaguirre, Virgil van Dijk, Jason Denayer, Mikael Lustig; Scott Brown, Nir Bitton, Stuart Armstrong, Stefan Johansen, Gary Mackay-Steven; and Leigh Griffiths, but I'm sure many would have differing opinions as you would expect.
Ronny Deila has passed the majority of the big tests put before him as Celtic manager, but as you would expect with the nature of the job, as soon as one fades into the distance behind him another appears on the horizon. As such, his predominant aims for the springtime will be to attempt to lead his side to Celtic's first domestic treble in fourteen years, and only their fourth such success in its modern format (post-war).
And yet, whether he is successful in this regard or not, he will likely face big challenges in the summer also, with prominent current players such as Virgil van Dijk and Jason Denayer widely expected to depart the Club. Therefore, wise and prompt replacements will be required, all whilst attempting to prepare for Champions League qualifiers and trying to shift some of the deadwood from the peripheries of the squad.
In saying that, with every passing week, more and more people within the support climb aboard the so-called "Deila Bus", and the general good feeling and confidence in the fanbase continues to grow. Virgil van Dijk will likely not be a Celtic player when the two hundredth goal of Ronny Deila's tenure finds the back of the net, but the supporters and many of the characters within the current squad will be there, and for that reason alone, I look forward to its eventual arrival.
This is a very good period indeed to be a Celtic supporter, and long may the good times roll.
Viva Ronny Deila.
Our annual charity raffle, in aid of Alzheimer Scotland this year, is currently underway. With tickets priced at only £2 each and a fantastic variety of seventeen prizes on up for grabs, if anyone is interested in taking part you can find out more information on how to do so by CLICKING HERE.