Yesterday, Neil Lennon, the man who has now led Celtic Football Club for almost four years, attended the Scottish League Cup semi-final tie between Aberdeen and St Johnstone as an interested spectator. One would presume he was there to cast an eye over Aberdeen in particular, whom Celtic will face this weekend coming in the Scottish Cup at Celtic Park. However, unlike the majority of spectators at Tynecastle in Edinburgh, Mr Lennon left with approximately twenty minutes of the match remaining. This was not because he felt that he had seen enough, nor because he wanted to miss the traffic, but because he was subjected to both verbal and physical abuse by some of the Aberdeen supporters located near to him in the stand. Insults were hurled and, more seriously, missiles, as well as gobs of saliva, directed towards the Celtic manager.
And so, before we move on to discuss the potential reasons for such abuse, allow me to indulge you in a flight of fancy for a moment. Imagine Tynecastle was replaced with any stadium in England; imagine the semi-final of the Scottish League Cup was replaced with the equivalent stage of the English competition; and imagine Neil Lennon was replaced with David Moyes, José Mourinho, or Brendan Rogers. And now, imagine the outrage and media frenzy which would inevitably ensue had this happened to them.
Regardless of how exciting the action on the field in our theoretical example had been, I feel it is safe to assume that the main talking point – in fact, the only talking point – on radio, television and in the printed media of the days which followed would be the abuse directed at the visiting manager. It would be headline news and said abuse would be widely, unequivocally condemned. There would be no suggestions of the victim "bringing it on himself" in one way or another, and the perpetrators would be sought, found and punished promptly, without question.
However, the aforementioned example is, thankfully, entirely fictional. Yes, some managers in England can fall foul of abuse from opposing supporters – mostly verbal it has to be said – but such incidents tend to be isolated and minor in nature. Many of you will have noticed the caveat I just attached to examples in England – "isolated". When we turn our attention north of the border and lay scrutiny at the door of the abuse suffered by Mr Lennon, we find that the events of yesterday afternoon were not isolated, but the latest in a painfully long line of incidents which have formed an almost continuous tirade against the Celtic manager.
For the sake of clarity, I shall now recount some of these incidents:
September 2003 – Mr Lennon is subject to an unprovoked assault by two Glasgow University students. As well as hurling abuse towards the Celtic player, they chase his car down the street, before spitting at him and physically assaulting him. Both are fined for their actions.
April 2004 – Mr Lennon, who has a twelve year old child in the car with him, is chased along Glasgow's M8 Motorway by a man shouting abuse and making offensive gestures. The perpetrator also drives erratically, cutting Mr Lennon off and causing notable alarm not only to himself, but also to his young passenger. The perpetrator is fined.
September 2008 – Mr Lennon is the target of a brutal, unprovoked attack in Glasgow's West End – after being subjected to a barrage of sectarian abuse, he is knocked unconscious by two men, who left him lying in the street in the early hours of the morning. A friend, who witnessed the incident, said Mr Lennon was "jumped from behind, hit on the head and knocked unconscious". Mr Lennon was subsequently treated for concussion in a Glasgow hospital. The two men involved are jailed.
January 2011 – Mr Lennon is one of three employees of Celtic Football Club to be sent bullets in the post. These were intercepted before they reached the Celtic manager, but the meaning behind them was clear.
March 2011 – A parcel bomb addressed to Mr Lennon is intercepted before it reaches the Celtic manager. Other such parcels are sent to prominent Celtic supporters the late Paul McBride Q.C. and Trish Godman M.S.P., as well as the premises of Cairde na hEireann on Glasgow's Gallowgate. The two men involved in the parcel bomb plot believed "they were capable of exploding and causing injury", and are jailed for their actions.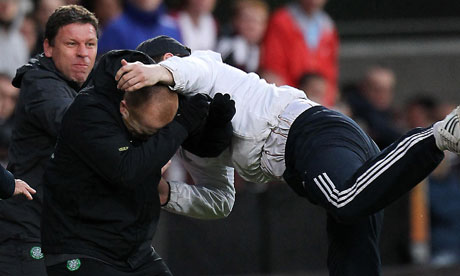 May 2011 – Mr Lennon is "attacked" on the touchline at Tynecastle by a Hearts supporter, moments after a Celtic goal. This incident is seen by over sixteen thousand people in attendance at the match, as well as countless more watching on live television. Subsequently, the offender is found guilty of breach of the peace, but the charge of assault is, to everyone's astonishment, returned by a Scottish jury as "not proven". On BBC Radio 5 Live, only seconds after the incident, one commentator asks "Is there any end to what happens to Neil Lennon?"
March 2012 – A man is jailed for posting a picture of Mr Lennon covered from head to toe in bullet wounds on the internet.
February 2014 – Mr Lennon has missiles, included coins and spit, hurled his way as he watches a League Cup match at Tynecastle. He is forced to leave the game.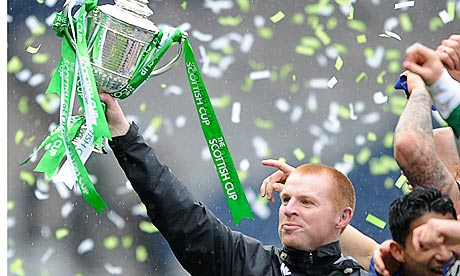 Please note, these are only a sample of what this man and his family have had to endure. Other incidents include him having to retire from international football due to death threats, his family and him being evacuated from their home in the middle of the night on various occasions due to threats made against them, and vitriolic graffiti being scrawled in several places across Scotland and the North of Ireland, including right outside his home on one occasion. One cannot imagine the physical and emotional toll such a list has had on Neil and his family.
And so, to all of those who claim Neil Lennon "brings it on himself" to one degree or another, I have a simple request – show me another football manager currently plying his trade in the U.K. who has been subject to such intense, continuous abuse, ranging from relatively menial incidents involving words to incredibly serious incidents involving car chases, assaults and explosive devices.
Of course, that request cannot be fulfilled because Neil Lennon is one of a kind. Other managers, past and present, who are (or have been) undoubtedly more outspoken and controversial than Mr Lennon have been unpopular with supporters of other teams, yes, but none have had to put up with what Neil has.
So, the question must be asked, "Why? Why is Neil Francis Lennon such a figure of intense, bilious hatred for so many people?"
And, regrettably, the question must also be answered. In short, it is because he is a proud and successful Irish Catholic, whose association with Celtic Football Club which has brought a certain level of prominence with it,  making him a target for moronic, narrow-minded bigots dwelling in Scotland and beyond. Make no mistake about it, that is the simple, painful truth of the matter. Regardless of how anybody may try to dress it up, that is the nub of the issue. The abuse which he suffers is not sectarian, it is racist, and the fact it has been allowed to continue time and time (and time) again shames not only our national game, but our nation as a whole.
Some people must realise that in a modern, progressive Scottish society, it is not the people of a different ethnicity or religion who are looked down upon or considered to be outcasts by the majority, but those who continue to stubbornly cling to a culture of perceived superiority, exclusion and hatred.
On Twitter yesterday, I said the following – "Sit down, shut up and you might be left alone – or stand up, succeed and become a hate figure."
As ever, my support, as well as the support of countless football fans (not only those within the Celtic support, I may add) is firmly behind the Irishman. Nobody should have to deal with the abuse he continues to receive, and I remain somewhat in awe of the fact he has never shirked in the face of such torment. I know myself that I would have left long ago had I been in his position, but few people personify resilience in the face of adversity like Neil Lennon.
He is an inspiration to many, and a nightmare to a minority. Individuals like him and successes like his are critical if Scotland is to finally emerge from the dark ages in certain regards, to a time when neither racism nor sectarianism are no longer begrudgingly tolerated or swept under the carpet; to a time when it is not seen by some to be a crime to be an Irish Catholic (nor any other ethnicity); to a time when men and women can simply get on with their work and their lives, wherever and whoever they may be.
I'm sure everyone reading this would join me in wishing Neil Lennon and his family all the very best for the future and I, personally, hope I shall never have to pen an article like this again. Stand proud, Neil.