A Brief Look At Celtic's Chances In Milan
"I buoni nuotatori al fin si affogano" – "Good swimmers are often drowned"
Having had a look at SkyBet this evening, I wonder how many punters tomorrow night (who have no interest in the fortunes of AC Milan or Celtic outside of their relevance to any prospective coupon) will take the Italian side as a home win. Milan are 4/9 to win the match, with a draw presently 7/2 and a Celtic win 7/1. Whilst a 4-0 Italian victory is 18/1, a 2-1 equivalent for the Scots is as much as 28/1. Regardless, it is clear that the majority of people expect an AC Milan victory tomorrow night.
Ironically, the caveat to this is that many Celtic supporters, and even a significant number of AC Milan fans, do not think it will be so easy for the Serie A side. As is outlined in our interviews feature with a couple of Milan supporters (which can be found HERE), many of the Rossoneri are far from happy with their side's performances of late and, notably, their current head coach Massimilano Allegri.
Despite leading Milan to the Serie A title in 2010-11 in his first season in charge of the Italian giants, he is now far from popular with the ranks of the club's supporters. At the end of the league winning season, eighty-two points were amassed by the Rossoneri. However, since then, such points tallies have declined to eighty and then seventy-two. In fact, the last league season in which Milan conceded more goals than they did last season was 2000-01.
So far in this new campaign, Milan's league record reads as follows: "Three matches played – one win, one draw and one loss – six scored, five conceded." Ok, so it's clear Milan aren't quite the footballing force they often can be. However, it is worth remembering that they comprehensively beat impressive opponents in PSV Eindhoven (4-1 over two legs) in order to reach the group stages themselves, so they are no mugs.
Focusing on Celtic for a moment, it will be very interesting to see which starting line up Neil Lennon chooses tomorrow night. Several debates rage on, and whilst I could write thousands of words on them, I will simply highlight a few of them briefly before telling you what my starting line up would be. Of course, Neil Lennon's choice is the only one that matters, but nonetheless.
Beginning up front, we have the "Stokes or Pukki" conundrum, as it would be a bold move for Lennon to play with two out and out strikers tomorrow. Presuming only one pure striker will be chosen, it will likely be one of these two men. The first, Anthony Stokes, has been somewhat maligned at times during his Celtic career. In the majority of cases, this criticism has been largely unwarranted. With 51 goals in 113 Celtic appearances, his strike ratio is a little over .45, and if he continues in his current vein of form, it looks set to rise notably.
So, can Anthony step out from Gary Hooper's shadow? Or will new signing Teemu Pukki take on the role of Celtic's main goalscoring threat?
In all honesty, that's probably a debate for another day, but I feel Neil Lennon's striking choice tomorrow will be telling. Pukki played well on his debut as a substitute, taking his goal calmly and even getting in the faces of some of his opposition. In this regard, no one could have asked any more of him. However, Stokes has been magnificent this season, and without him, Celtic may not be in the group stages at all. Few other players who have  been so influential in recent weeks at other clubs will wonder whether or not they would start in such a match, but debate rages on within the Celtic support. Personally, as much as I like the look of Teemu Pukki, I'd start Stokes – and I must confess that, a season ago, I would never have started Stokes as a lone European striker, but like most football fans, I know I can be somewhat fickle.
Another debate which continues is who Celtic will play on the right side of midfield. With James Forrest out, presumably it will be a straight shoot-out between Adam Matthews (who took a knock at the weekend) and Derk Boerrigter. The Welshman has excelled in recent weeks in a more advanced role in the side, and his progression into midfield has allowed Mikael Lustig to solidify his place as our right back in recent weeks. The Swede is perhaps the more defensively minded of the two, and his height and experience certainly adds to the side, so I feel he may well hold onto his spot tomorrow night. Anyway, Boerrigter or Matthews? That is the question. If he is fit and able to complete ninety minutes, I would play Matthews, but presuming that will not be the case I would start Derk Boerrigter – he is becoming more confident in the side and I hope he will excel on the European stage. Equally, having Matthews on the bench (even if he is only fit enough to complete, for example, half an hour) will add various weapons to Lennon's arsenal with regards his ability to change Celtic's approach mid-match tomorrow.
Next, we come to Charlie Mulgrew, the undroppable man of sorts. Many supporters, whilst they admire Charlie's ability and his achievements, do feel that he has been shoehorned into some Celtic line ups in the past, and tomorrow may be no different. If I was to play Charlie, I would start him at left back in place of Honduran Emilio Izaguirre. Presumably, Milan will have the majority of position tomorrow night, and therefore the defensive prowess of our full backs, regardless of who they may be, will be tested to the hilt. With this in mind, I wonder whether Mulgrew would be a better option than Izaguirre, as his extra height and his ability to deliver set pieces may come in very handy indeed.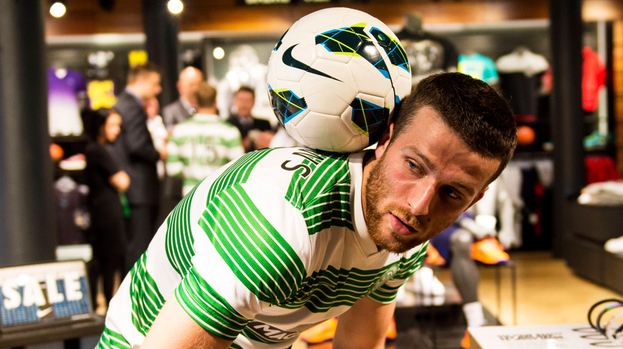 Finally, it has been revealed that Joe Ledley is carrying a thigh strain, so if he was not to start the match then it opens up the possibility of Mulgrew featuring in midfield (not his best position in my opinion) or something else entirely. Ledley sat out tonight's training session at the San Siro, but that may have been purely precautionary. Regardless, it will be interesting to see how Celtic line up in the north of Italy – a country we have never won in.
All in all, this is undoubtedly a good time to play AC Milan. We may manage to gain a positive result in the San Siro, and I wholeheartedly hope we do. However, our opponents are still a very good side, and anything other than defeat will be a great result for Celtic.
As the Italian proverb highlighted at the start of this article states, "Good swimmers are often drowned". Essentially, this warns even the most talented individuals or groups against the dangers of overconfidence morphing into complacency. Yes, on paper Milan should defeat Celtic and they may well do so, but anything can happen in football. If the Celts play to their best, then who knows what will happen?
I, for one, think it will be a very close affair. Whilst my heart says we will draw 1-1, my head tells me a 2-1 loss is more likely, but if we play to our best, then I believe anything is possible.
The official UEFA press pack for the match can be viewed HERE.
"Non doe seguir amor chi non ha volare" – "A faint heart never won a fair lady"