A Look At Celtic, Scottish Football, And Ourselves
And so, 2012 is coming to an end. Undoubtedly, it's been a more eventful year than most. We've survived the Mayan Apocalypse and the Scottish Media's Footballing Armageddon. We've seen perhaps the most memorable Olympic games of many of our lifetimes, and seen significant steps made towards the continuing "Justice For The 96″ campaign. Closer to home, we've seen Celtic lift their first Scottish Premier League title under Neil Lennon, and the Hoops have since surpassed all expectations (especially those of @itvfootball) by qualifying for the last sixteen of the UEFA Champions League. Oh, and the behemoth of bigotry that was Rangers Football Club drew it's final breath, much to the amusement of most fans of Scottish Football.
Returning to ourselves for a moment, we began the New Year in a similar style to how we had ended the previous one, as a small and very basic ProBoards site, with lively Twitter and Facebook feeds. In early February, having turned a year old only a few weeks previously, I set out to find someone capable of building us a new, improved website more befitting of the Celtic supporters for whom we try to provide a enjoyable and useful service.
A couple of weeks later, with the Hoops having recently won 4-0 at Tynecastle (the ground at which Neil Lennon was assaulted through all eyes other than those of a Scottish jury), Rangers Football Club entered administration, and were duly docked ten League points.  Amidst all of the ensuing hilarity, everyone at Celtic knew that they had to aim to win the League by more than ten points, so as to silence those who, for reasons of jealously and disdain, felt it necessary to brand the Club, and it's manager's, achievements as "tainted".
Around this time, early in the year, we started a petition calling for the installation of some sort of memorial to Celtic's first manager, Willie Maley, at Celtic Park. Within days, this reached the magic figure of 1888 signatures, and was sent in to the Football Club. This resulted in a meeting with Chief Executive Peter Lawwell, who assured us that this support would not be forgotten when the Club decided which figures from the Club's past would be represented in the form of busts outside Celtic Park when the coming redevelopment of the area outside the Main Stand is carried out. This was, of course, a huge success from our point of view, and I personally look forward to the day when a child can look at this memorial and ask a parent or sibling, "Who was Willie Maley?"
Returning to football itself, as Winter turned to Spring, the Hoops suffered a disappointing 1-0 defeat to Kilmarnock in the final of the Scottish League Cup. However, the event was somewhat overshadowed by the tragic death of Killie midfielder Liam Kelly's father only minutes after the end of the match.
A couple of weeks later, a resounding victory by six goals to nil at Rugby Park sealed the title for Celtic, who were Champions of Scotland once again. Celtic fans filled three sides of Kilmarnock's stadium, as goals from Charlie Mulgrew (2), Glenn Loovens, Gary Hooper (2) and Joe Ledley brought the title home. However, it would be some time until the team got their hands on the trophy itself. Glaswegian pawn shops braced themselves in case the trophy's old holders decided it may be of some value, but thankfully, this was not to be the case.
A week later, Celtic were controversially knocked out of the Scottish Cup, at the semi-final stage, by Hearts, at Hampden. Having equalised dramatically in the final few moments, Celtic looked set to take the encounter to extra time. However, the Jambos were awarded a penalty in stoppage time by referee Euan Norris, who told the players Victor Wanyama had handled the ball. Funny that, considering television pictures show it actually struck Joe Ledley, and his Kenyan team mate was a yard or two away from the incident. The following picture, from "VideoCelts" highlights this rather beautifully, and we can chalk it up as another "honest mistake". Moving on from that defeat, there was still time for a youngster named Tony Watt to score twice on his debut at Fir Park, before Celtic hammered rivals Rangers in what would become the final meeting between the two sides. Five goals from Gary Hooper on the final day of the season against Hearts at Celtic Park preceded the presentation of the Scottish Premier League trophy to the manager and his players. In this moment, Neil Lennon, and his young side, had been vindicated. Individuals within the media, and within the wider world, had previously questioned not only their abilities, but their integrity. Letter bombs, assaults, bullets, cowardly threats and widespread bigotry had not stopped the Irishman or his players, and Celtic were the Champions of Scotland once more.
Come the end of May, we concluded our fundraising efforts for the good people at the Kano Foundation. In total, with your fantastic support, we raised around £1100 for a tremendous cause. Most of this was spent on the charity's first annual Christmas party for around eighty children. I have since been fortunate enough to attend their second Christmas party, which continued to bring a bit of joy and festive feeling to all of the children who attend. The fact that our site and it's users helped to play a role in the start of this now annual event is something we should all be tremendously proud of.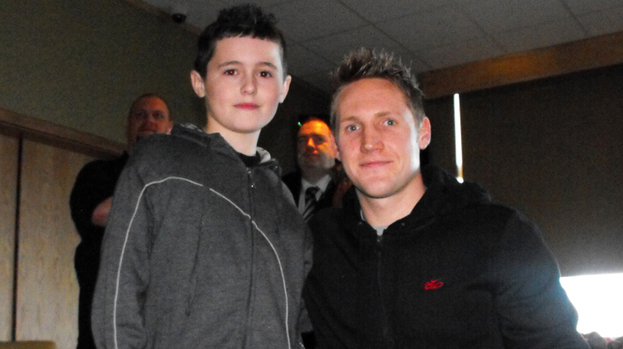 Unlike many summers without football, the close season was not to be a quiet one. In June, Rangers ceased to operate as a Football Club, as the confirmation of pending liquidation consigned them to their fate. This meant that, for the first time, there would be no Ibrox club in the top flight of Scottish Football. Not only did this mean that the 2012/2013 season would be unlike any other, it meant that Celtic were the only side to have appeared in the top flight of Scottish Football since the formation of the leagues back in 1890. Of course, Aberdeen have also been a constant presence since their promotion to the top flight in 1904, but they were not founding members of the league system.
At Celtic, there was an exodus of players who were no longer considered to be required by the Football Club. This allowed the Club to reduce the overall size of the squad, whilst freeing up some potential wage money for new players. Efe Ambrose became our only permanent signing, while Lassad, Miku and Lubos Kamenar came in on loan.
Back with Maley's Bhoys, we launched our new website, which we had been testing over the course of the summer. Since it's inception, it has given myself, and the wider support through guest bloggers, the platform for us all to share our thoughts with Celtic fans worldwide through our articles and debates. At present, we have had over 125,000 hits on the site since it's launch, and I must confess that I never thought it would be that many. We have also launched our fundraising efforts for this season, which have already seen almost £400 raised for Motor Neurone Disease Scotland.
On the field, the team prepared for the new season with a pre-season tour of Germany, as well as glamour ties against Ajax, Inter Milan, and Real Madrid (this match was technically played during the season). Since then, despite some inconsistent league form at times, Celtic have shone, particularly on the European stage. In doing so, they have beaten the Champions of both Finland and Sweden, as well as Russian runners up Spartak Moscow, both home and away. They have also taken a point from Benfica at home, whilst losing narrowly to the Portuguese side in Lisbon. These European adventures also allowed us to start the increasingly popular "Maley's Bhoys European Trip" Twitter pages (@MBBarca, @MBBenfica, @MBMoscow and now @MBJuventus).
However, the pinnacle of our achievements this season came against the greatest footballing side in the world, F.C. Barcelona. Having suffered a cruel last minute defeat at the Camp Nou, Celtic welcomed "Messi and co" to Scotland for the return tie only one day after the Football Club celebrated it's 125th birthday at St Mary's Church in the Calton.
And how the Club celebrated, as the Hoops became the only side other than Real Madrid to defeat the Catalan giants this season, winning 2-1 at Celtic Park. The Bhoy who made his debut at Fir Park only months earlier, Tony Watt, scored Celtic's second with around ten minutes to go. In doing so, he gave the lads at "Hail Hail Media" the ability to produce this gem:
Another late winner, this time against Spartak Moscow at Parkhead would send Celtic to the knockout stages of the Champions League only weeks later. As we head into 2013, the Champions of Italy, Juventus, await us. Celtic are still involved in all four competitions, and with a young determined manager, a talented backroom staff and a team which continues to develop and grow, the future at Celtic Park is looking noticeably brighter than it was a few years ago.
The future of Scottish Football, in my opinion at least, also looks significantly brighter than it has done in some time. The top flight is the most competitive it has been for over two decades, and average attendances are, on the whole, markedly up. There appears to be an increased coverage of Scottish Football down south, and, rightly or wrongly, lower league sides are being given opportunities to have matches televised when they play "The Rangers". Of course, how long this will last is up for debate. A potential reconstruction of the national game in order to help accelerate one new side's progression up the leagues would be a disaster, and yet sadly it is being considered by those in positions of power. However, for now, I think most fans of Scottish Premier League teams are simply enjoying the footballing ride, and rightly so.
Finally, moving back to ourselves for a moment. Having carried out a survey of fans views regarding the catering on offer on match days at Celtic Park, I have since met with a representative of the Football Club and it's suppliers, the Lindley Group. In January, a group of around twenty supporters will, along with myself, attend a subsequent meeting at Celtic Park concerning the issues raised by the members of the fan base.  We chased the much publicised banner from Seville and were disappointed to have to relent in this endeavour, but felt it was the only option available to us.
All in all, we continue to write, discuss, and question what sections of the Scottish Media tell us, and search for the truth that lies within. We continue to attempt to represent the views of the Celtic support as best we can, and to work with other sources of Celtic media. Also, progress continues steadily in the background on my book.
In summary, it has been an eventful year, and we've come a long way. I can only thank you all for your continuing support and wish you and your families all the best for 2013.